Joseph Appleyard's Autobiography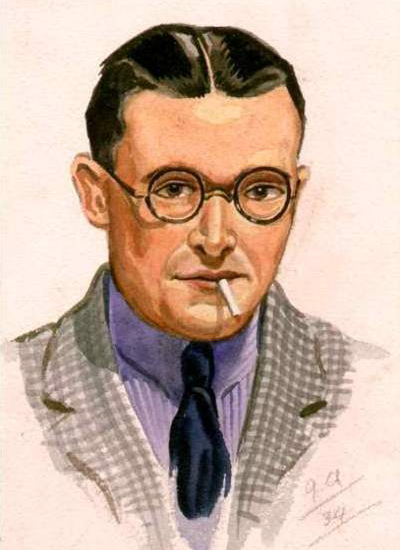 Joe's self portrait dated 1934, aged 26
Still in the family collection
This is the full transcript available of Joe's handwritten autobiography which was unfinished at the time of his death in 1960.
It could well have been started during the war years when he was stationed in Cumbria and Bradford whilst serving with The Pioneer Corps.
| | |
| --- | --- |
| | CONTENTS |
| | Early Years |
| | Horses and a City |
| | I meet Jacob Kramer |
| | The Yorkshire Weekly Post and Polo |
| | My big chance comes |
| | A day with the Bilsdale Hunt |
| | A Glaisdale Recollection |
| | Huia |
| | The Veteran |
| | A summer week with the Bedale |
| | Gipsies and Circus |
| | Kennels Farm, Knayton Moor |
| | Painting at Otterington Hall |

From quite an early age I was forever drawing. Even when I left school I was encouraged to attend evening classes at the Leeds School of Art under the guidance of the tutor Mr. Pope and Mr. Talbot my drawing from the life in those early days gave me an excellent start for painting in the future to follow. Little did I think I would turn to painting horse portraits and sporting scenes in later life. My fondness of animals even in those day was apparent as related to me quite recently by George Waite a fellow colleague at the time. I had forgotten the incident, but, it appears that one evening, I arrived at the Class with a huge sheet of strong paper, and asked Mr. Pope if I may be excused painting from the life model and do a tiger instead. Permission was given and the painting was done from memory after a visit to the Leeds City Museum, where there is to this day the same large, stuffed, man-eating tiger.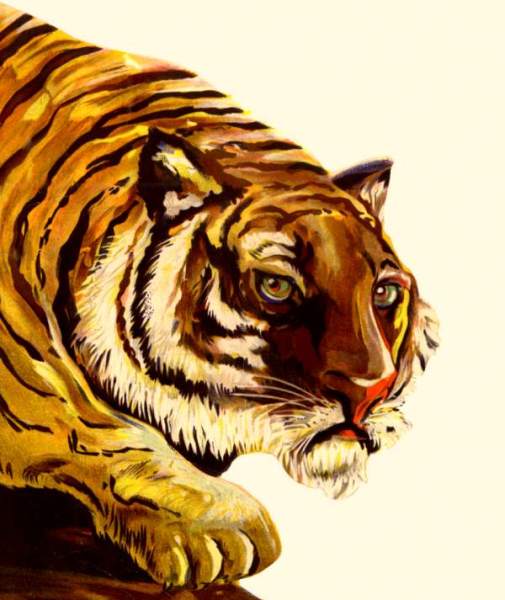 Joe's painting for Tiger Sauce Label
If the wedge had been driven, the main objective now was to carry on, and widen my scope of subject matter. At that period my painting time and excursions were limited to the weekends and whatever time I could manage during the evenings of a work-a-day week. I was employed in a humdrum sort of way on window display and general advertising for a commercial firm. This was no incentive for one whose bent was forever out in the country and a sketchbook to hand.
However this job of work did not diminish my ardour - whenever possible I was away up Airedale, Wharfedale, the Washburn Valley, ever eager to put down the scenes I was beginning to love and know so well. My next painting to be hung during the following year was in The Yorkshire Artist's Exhibition at Leeds City Art Gallery - I can see it now - a rather weak attempt on "Cotmanish" lines, an architectural study of Adel Church Porch.
It was well placed in the main watercolour room, but was apt to hang its head in shame amidst all the splendid work around it. But despite all this - I had been accepted in a collection of some two hundred works on display - which was something to one's credit.
This painting did not sell, but is still within the family circle hanging in my brother's office in York.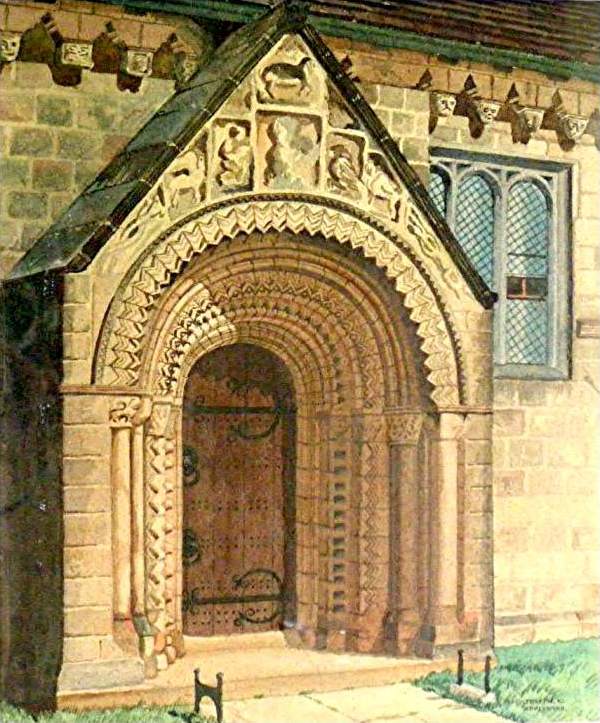 Adel Church resided in South Africa for many years, taken there by Joe's brother's nephew.
It is once again hanging in Yorkshire along with another dozen or so of Joe's paintings, all owned by Joe's brother's nephew's niece.

Hope you could follow that connection!
It was this same year that attempts at introducing horses and figures into my paintings became evident. Again the Spring Exhibition at Bradford - two entered - two accepted!
But what of the hanging? - Not as good I'm afraid as the first time. The paintings (watercolours) neither were up to the previous standard of the Buckden one, which I describe later. One of them "Morning Exercise on Greenhow Hill" although it had a freshness in the landscape work was let down badly by the two horses with giraffe-like necks.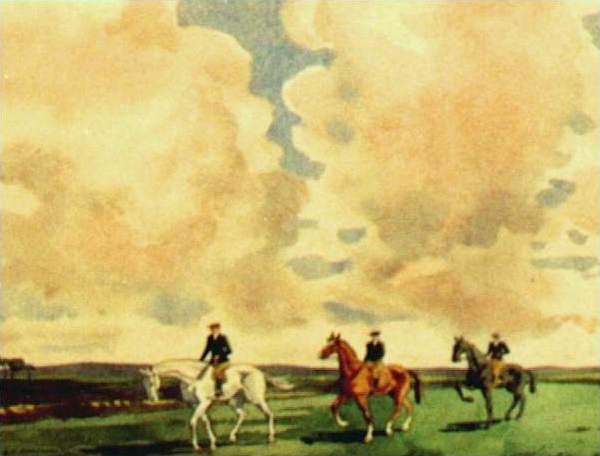 "Morning Exercise on Greenhow Hill"
"although it had a freshness in the landscape work it was let down badly by the two horses with giraffe-like necks"
Unsurprisingly this painting never sold and appears here care of one of my cousins
(We are hoping to get a much clearer image in time).
This is the end of Chapter
One, Two, Three, Four, Five, Six, Seven, Eight, Nine, Ten, Eleven, Twelve, Thirteen
NEXT TOP BOTTOM HOME

To explain my early efforts and experiences in painting I have taken the opportunity through the kindness of Mr. Harry J. Scott, editor of "The Dalesman", to allow me to put down an early ambitious sketching tour, which was published in the Dalesman of May 1938 and trying here I hope to take a the reins to account my activities in a profession, which to me, has been one of the most interesting and exciting that could ever happen to anyone.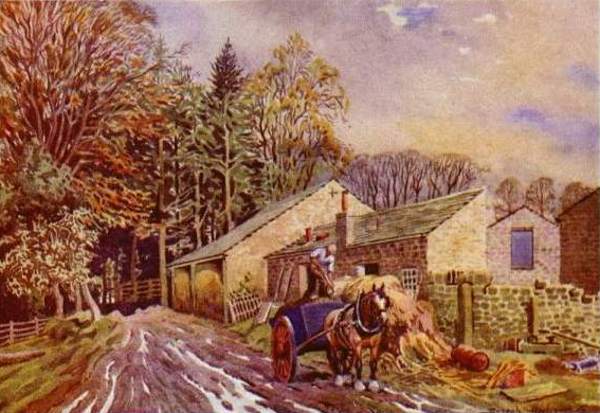 "Farm Buildings near Sedburgh"
- Joe's first cover for the "Dalesman"-
In this my first book I will deal chiefly with my career as an equine and landscape painter, and sincerely hope that my colleagues, tutors and students alike at the Leeds College of Art, Swarthmore Education Centre and the Leeds College of Food Technology, will bear with me in the strength of reference I have to say about them in the following chapters.
Let me begin then with the sale of my first painting on a day I remember only too well. It was during late March in 1935 and I had had my first two watercolours accepted at the annual Spring Exhibition at the Cartwright Memorial Hall Bradford. Being new to exhibiting work in public, you can imagine my ignorance of all matters connected with the running of an exhibition from the Art Gallery Director's point of view. I went round the exhibition on my own, and was thrilled with all I saw. My two humble efforts neither making nor marring the room they were in - so small they were. Yet how flattering to see one of them sandwiched between an Epstein drawing and I believe a Henry Rushberry.
In addition, my painting had a red spot attached in the bottom left hand corner. This proved my aforesaid ignorance, because on explaining to my father on getting home, I was under the impression my painting and others with spots attached had been specially commended for some reason or other, by the Selection Committee.
It was not until a few days later, when the Director of the Gallery wrote to tell me that my painting had been sold, that I knew the meaning of the red spot - it had sold for the handsome sum of two guineas, inclusive of frame.
The purchaser was a doctor, who, when he died about three years ago left somewhere in the region of £42,000. However I learnt later that he was a collector and a patron of most local artist's. The picture! - A view of Buckden done from the top of Buckden Ghyll, some time during the autumn season. Not a masterpiece by any means, but one which I must have enjoyed doing at the time.
It was evident, now I had gained my initial success, I must continue - a hard struggle it was going to be.
But had I not been rejected some seven times in all, before my first picture was hung? No doubt the thin end of the wedge.
This is the end of Chapter
One, Two, Three, Four, Five, Six, Seven, Eight, Nine, Ten, Eleven, Twelve, Thirteen
NEXT TOP BOTTOM HOME

To the uninformed Leeds is a large city in the West Riding of Yorkshire its chief industries covering a various range from Multiple Clothing and Engineering to paper bag manufacturing. In the centre of all this, (as in most cities) there is to be found some small Bohemian - like quarter in a pub, chosen by the local Artist's as a common meeting ground.
One such artist, Jacob Kramer, happily still with us in Leeds frequented then, along with his colleagues, a certain bar in the city centre. It had the intriguing names of "The Turks Head", "Whitelocks First City Luncheon Bar", or more affectionately known to its patrons as just "Whitelocks".
The family of Whitelocks too were excellent musicians, the late Mr. Lupton Whitelock, who acted with his younger brother Percy as joint landlords, was an expert flautist - his services as soloist taking him to many first class orchestras here and throughout the continent.
This then was good reason why artist's, poets and writers met at the famous bar. The small body was supplemented too, by day and night reporters of the cities newspapers.
The place itself was tucked away in a back yard just off the busy thoroughfare of Briggate. It had and still has all the appearance and flavour of Victorian days. As one enters, a hand is placed on two highly polished brass rods, which stretch across the width of door and pushed to make an entry. The door itself a work of rare commercial art of the period, coloured glass set in leaded framework, fashions a most hideous, yet fascinating design, the name Whitelocks being done in a white design.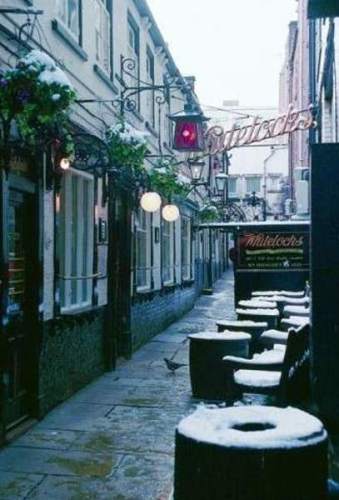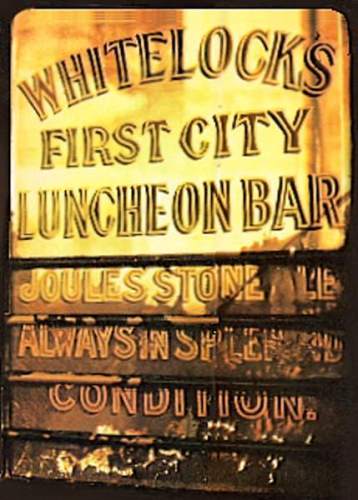 "Whitelock's" today much as it would have been then.
I had my stag do here in 1979!
Inside presents us with a long, low room with a porcelain-tiled bar, heavily decorated at the front. It also had a zinc top and ran a good halfway down the length of the room. The other half of the room is divided into something like dining cubicles, each backed with mirrors bearing engraved inscriptions bordered and supported with heavy polished twisted brass rails. The seats around the cubicles and on three sides of the tables are in red plush velvet, with an occasional bent chair on the open side. Beautifully laundered tablecloths are set with shining cutlery. During the lunch hours and also in the evenings meals with "cuts off the joint" and Yorkshire Pudding are enjoyed by anyone with an appetite for good wholesome cooking.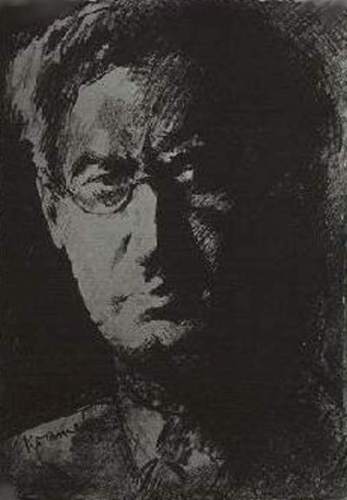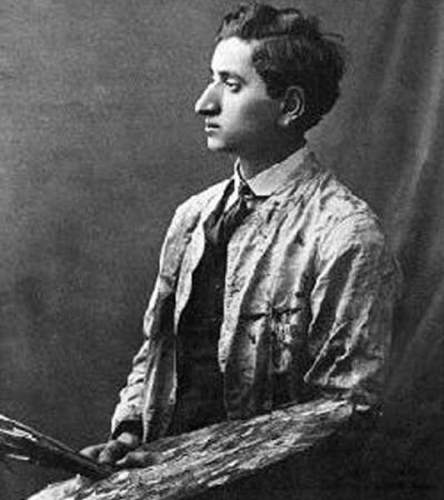 "Jacob Kramer" self portrait and as a young man.
I met jacob on a number of occasions with my father - always in a pub - and I was younger than ten.
He was a huge man with a ruddy nose and ginger tweed overcoat, sometimes with a large brimmed hat casting a huge shadow across his face, a gentle man- that's how I remember him.
I must mention that two of the cubicles were not as superbly furnished as the ones first mentioned - The plush work, yes! - but rather worn and a circular iron table with a marble top, took a place in the centre. It was usually at one of these two that Jacob would sit, accompanied by a fellow artist, Charles Murray. Jacob a well made six-footer and broadly built, Charles considerably smaller, each content with a glass of beer and chatting on various topics. They were joined occasionally by Joseph McCulloch (another artist), R. C, Scriven (a writer and poet) and others of that ilk and the reporters joined in - to mention two at the time W. T. Oliver and E. J. Crossley, both still on the staff of the Yorkshire Post others were from the Yorkshire Evening Post and the Yorkshire Evening News.
They were a happy jovial crowd, not in the least noisy, and were to be found at these tables or standing at the bar, at most times of the day or evening - (not always the same faces mind you!)
I had noticed Jacob, the first time I ever went in, and it was not long before I knew he was a portrait painter of some merit. At the time I was exhibiting my third painting with horses in the Yorkshire Artists Exhibition of 19?? It was entitled "Frost at Middleham" and showed racehorses being walked from the moor top down to be stables, each horse accompanied by a lad at its head. There was an air of frostiness in the scene, with a rather prominent glowing red sun in the gray sky (just imagine the subject a young artist will tackle!).
Naturally I was anxious to have some expert criticism on this. I hesitated a long time before plucking up even the courage to speak to Jacob. However, when it had been done I enlightened him about the possibility of my becoming an artist, and would he be good enough to look at and criticise my painting in the Art Gallery.
He agreed. This was the beginning of my friendship with Jacob one whose character and charm had already won him a lot of friends. He was liked wherever he went, no matter what the company.
Was I to expect a pat on the back after he had seen the picture? Certainly not! Jacob, a forthright critic came out with the comments "Saw your water colour the other day - quite fair, but what is the orange doing in the sky?" But it was with his usual kindness that he encouraged me by saying I was on the right lines and one day I would achieve my ambition.
It was a criticism at the right moment, I knew I would not have to be too ambitious with the subject matter. Still attending the evening classes at the College of Art and trying to cope with a job of work in a display studio was my lot. I found this work became more wearisome day by day. I had to travel by train almost to Bradford each day of the week, including Saturdays. This did not make matters any better when I got to work, after a mile's walk every morning from the station at Rawdon down the hill to the Display Studio. I was still longing for a free hand and to be able to paint what pleased me and not for anyone else to interfere. Interference in a display studio of a large factory can be most annoying, and although I had plenty of free scope with my own ideas, I was constantly being frustrated with one and another of the bosses and directors of the firm. Time was getting short I knew, before I would eventually take the risk of leaving and starting on my own - But what? I wasn't capable of setting up a studio and waiting for patrons to come along - besides having nowhere for a studio, apart from the kitchen at home. What a plight to be in - with not a penny saved.
One morning in August the inevitable happened after a disagreement with the works manager, I, in rather an impetuous moment, gave in my notice, collected my cards, and that was that!
My father, annoyed by my actions at the time, soon forgave me, and in fact was all in favour of my future plans.
This is the end of Chapter
One, Two, Three, Four, Five, Six, Seven, Eight, Nine, Ten, Eleven, Twelve, Thirteen
NEXT TOP BOTTOM HOME

I was soon to find that having a regular job with a wage at the weekend was far better than trying to make headway on one's own. Luckily I was blessed with good parents, who by now, were beginning to realise that I was happier on my own - I was little trouble at home,
Joe's sketch of his family's size works
at Appleyard Lane, Armley
Jacob Kramer ultimately lived near Appleyard Lane when he lodged in a sweet shop
near to where Joe's friend and Yorkshire Post Press Photographer, John Edenbrow, lived.
drawing and painting on a small table under the kitchen window. Most fine days saw me in the country, or in some back street of Leeds busy with sketchbook and watercolours.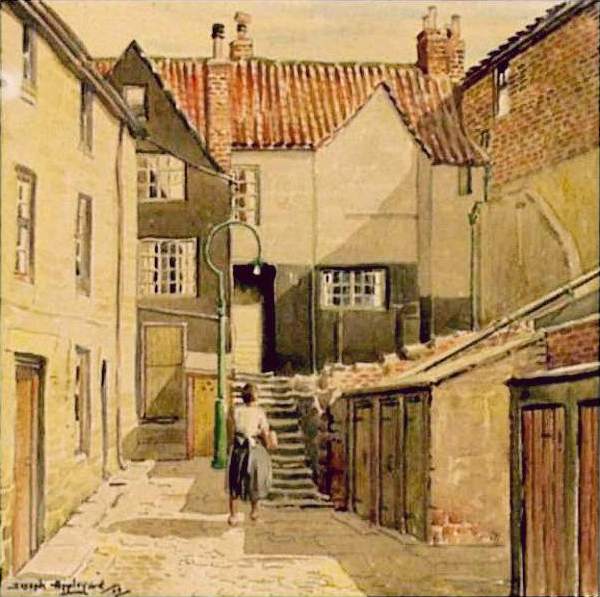 One of Joe's paintings of a "Back yard in Leeds" Circa 1939
Auctioned by Dee-Atkinson-Harrison in 2002
The canal side from Leeds Bridge to Bingley in the west or to Swillington Bridge in the East gave ample opportunities for sketching, which I was only too eager to accept.
Kirkstall Abbey and Temple Newsam were also favourite haunts of mine - in fact, I was so busy drawing during the summer months that the sketches and watercolour paintings were mounting up in my portfolio at a terrific rate. You will notice that I have not yet mentioned oil painting - maybe I did not give it any thought at all until late1938.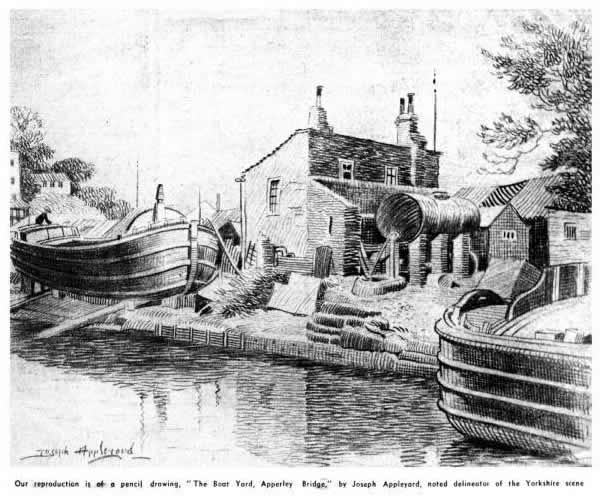 One of Joe's pencil sketches for the Yorkshire Post of "The Leeds and Liverpool Canal at Apperley Bridge"
and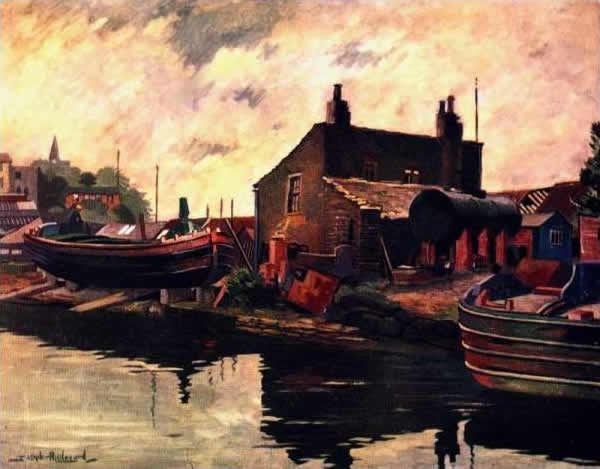 An oil painting of the same subject which was sold at Joe's memorial Exhibition in December 1960
and has since been auctioned at Bonhams in Leeds in November 2004 for £295.00.
I did consider putting in a bid for it, as it is one of my favourite paintings.
But where do you stop?
Whilst going on my sketching outings, I occasionally called in at Whitelocks and perhaps showed my efforts to Jacob - this was not often - but I remember on one occasion I was recommended to go round and see the Art Editor of the Yorkshire Post and take my sketch books with me. I fought shy at first but thinking it over one evening, I decided I would go the first thing next morning. I was in luck. The Art Editor of the Yorkshire Post could not use my work in the Daily Edition, but gave me space of three columns by 6" deep each Saturday in the Weekly Edition. Now this proved just to my liking, as I was given a free hand to draw in black and white any subject with a Yorkshire accent. It was good pay too, supplemented with a plain line drawing each week for the children's painting competition.
This small contract proved to be my salvation, as you will soon read. What a grand feeling to think that with an occasional sale of a water colour and the Yorkshire Post drawings every week - I was in a much easier and more peaceful state of mind.
It gave me new life. Written notes were going down at the back of my sketchbooks, fifty to the dozen, of places I would visit and draw for the newspaper.
I had a good opportunity given the first week - Polo on the Stray at Harrogate. I went over with my sketchbook and started in earnest. On the three days I went there the weather was glorious. This occasion too, proved beyond all doubt that horses were to play a big part in my future work. The first three sketches I did were suitable material for the weekend edition. In the meantime I thought it would be a good idea if I took my easel and water colours to do some sketching in colour. It turned out to be an excellent idea because, apart from being rather conspicuous working at an easel it brought spectators and enquirers. Painting studies in watercolour on dove grey paper has always been my favourite medium.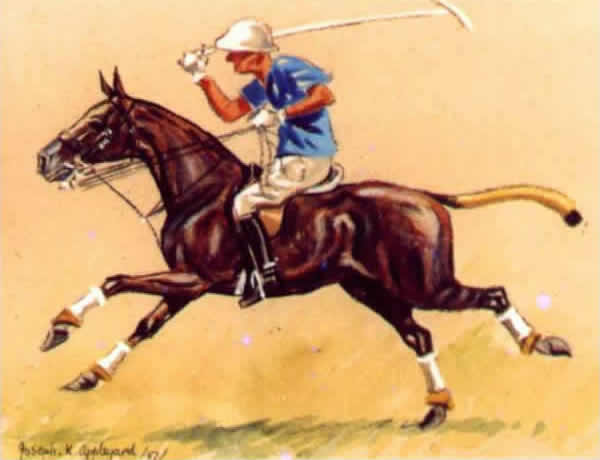 One of Joe's paintings done in 1937 following his three day visit to The Stray, Harrogate.
(Thanks to Cousin Pamela for this image)
It was whilst I was thus engaged on some studies of Polo ponies that my first enquiry came. A tall slim man in Polo kit, without hat, watched me for a few minutes - then he spoke "Do you do this professionally?" he asked. For once in my life I was full of confidence and I replied without hesitation "Oh yes!" "Will you paint two Polo ponies for me?" - This was too much! I faltered a little and then said I would. Then came the real purler "What would be your fee?" he asked. Now for the life of me I couldn't have told him - I wished the earth would open up and swallow me. However I managed to say "Well, two ponies similar to the ones I am now painting but larger would be 2 guineas each. He accepted my offer and told me where the ponies were to be found for sketching in some local Hotel stables. On departing he said "Contact me at the Royal when they are ready!" and thrust his card into my hand as he walked away. I stared in bewilderment at the name in the centre of the ivory card - Lord Barnby.
I was soon aroused out of my stupor when a familiar voice hailed me - It was another "Whitelockian", John Muscroft, staff photographer of the Yorkshire Post. Incidentally Muscroft was one of the finest photographers of racehorse portraiture in the country. He came across and wanted a picture of me in action at the easel painting a Polo pony.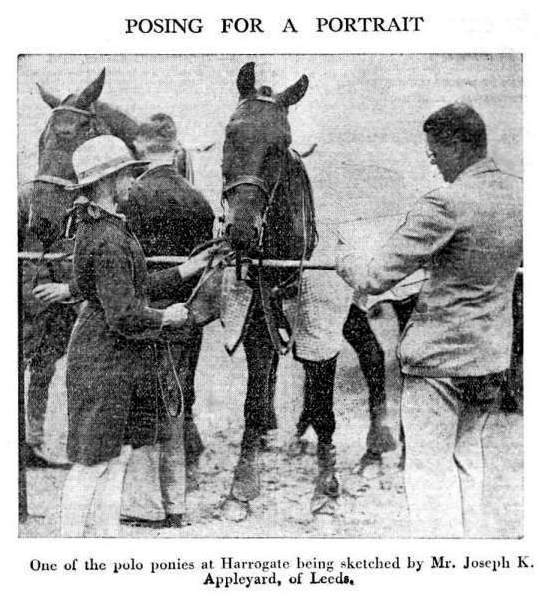 The very Photograph.
Just goes to show how good Joe's records were
The photograph was taken and appeared in the next morning's edition. Publicity of this nature if not overdone too frequently, can be a boon to an artist. This appearance of the photograph certainly was noticed by quite a few people. The first one to mention seeing it was the groom who held Lord Barnby's ponies for me when I went to sketch them.
Shortly afterwards whilst sketching at the easel along came my second prospective patron - this time a most charming lady, I should say in her early thirties. She too, mentioned the photograph and informed me also that the pony I was sketching in the photograph belonged to her. This time I had on the easel a series of Polo players in action. My new onlooker was so impressed that she asked me, nay ordered me, to do a similar sheet of the Ladies match, which was to be held later in the day. I agreed. This time no price was fixed as we exchanged visiting cards. The good lady told me to send on the painting to be address on her card. I glanced at the card which read Lady Margaret Drummond-Hey and the address was in the bottom corner. Thanking each other with a handshake, she left. I should have mentioned that Lady Margaret was a keen Polo player and was ultimately featured in the page of sketches.
Joe's Polo Sketches at The Stray, Harrogate


Click the button to view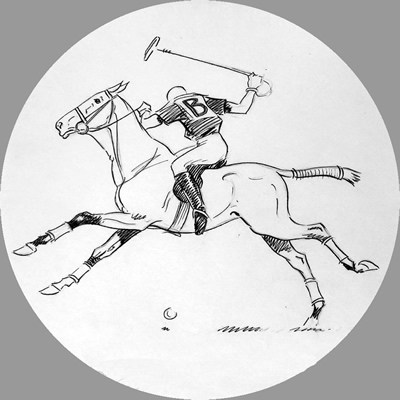 sourced from his
Sketch Books in Collection at Leeds Art Gallery
Quite a few commissions came my way. Some I have forgotten. The ones I do remember were of a hunter mare and foal for Mrs. T. L. Paisley and a painting for Harrogate Corporation of Polo on the Stray. Two other ponies were also painted at Fulwith Brow for Colonel Fairfax-Lucy, who (when paying me a little more than what I had quoted) advised me in future to double my fees. Needless to say that went into operation with the next commission.
When the Polo Week had finished and my four commissions had been executed it was my lot to keep up a reputation as an illustrator. I found it interesting work and by now I had gained a good deal of self-confidence, which I think is essential for an artist working from an easel.
After the first Polo drawing was produced, the second subject for the following week was soon to hand - Woodhouse Feast.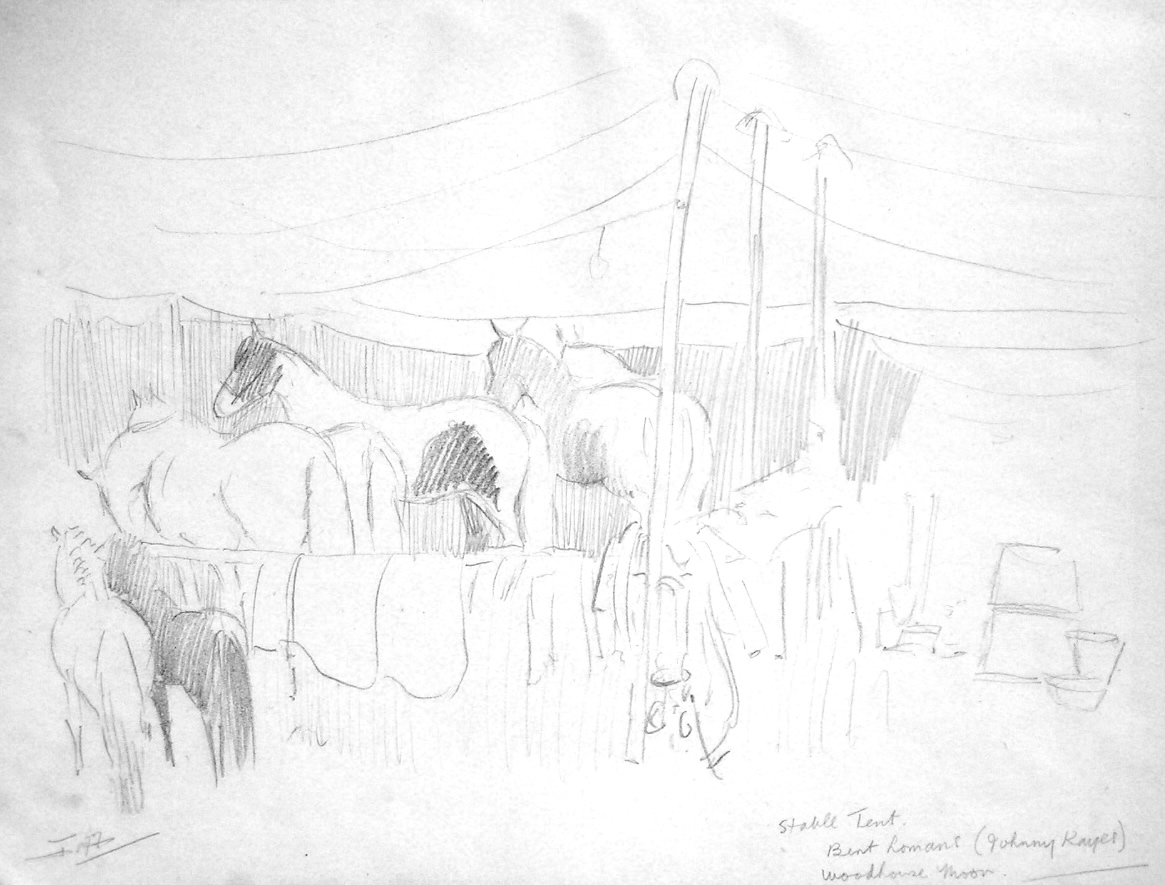 One of the two of Joe's sketches for Woodhouse Feast which we can find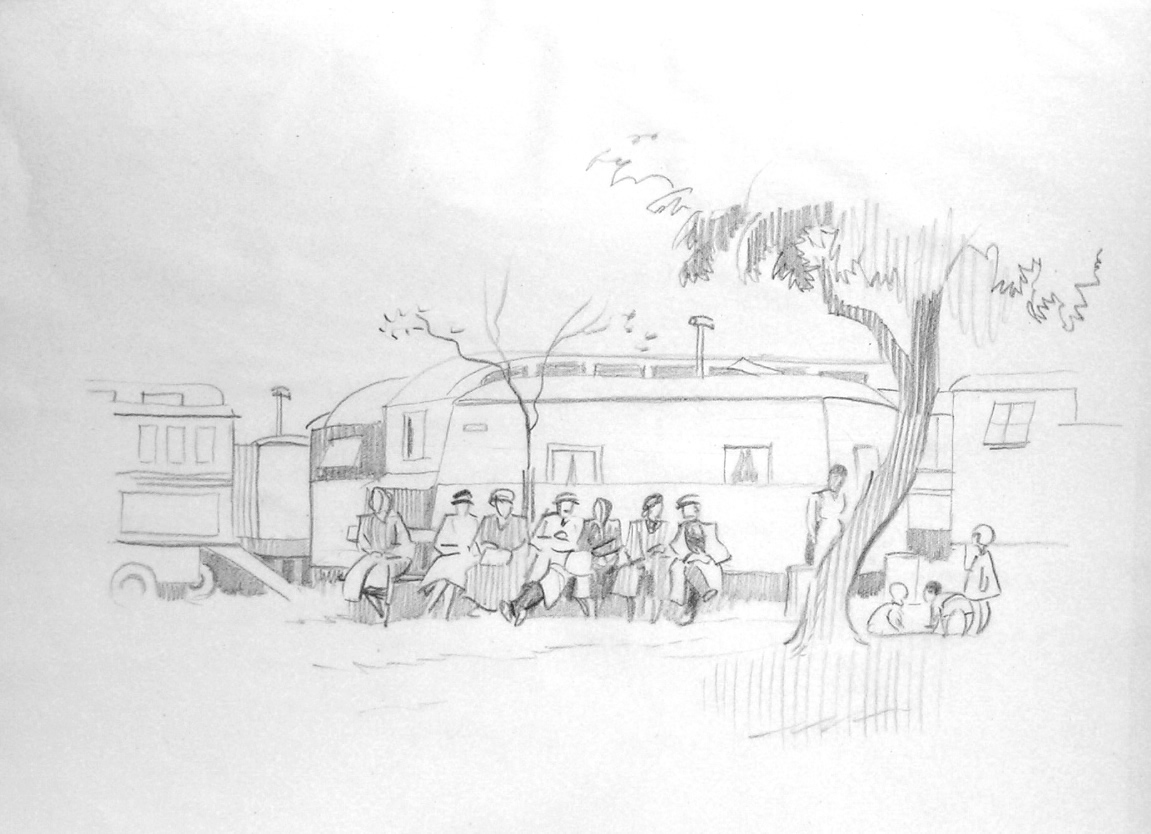 The other of the two of Joe's sketches for Woodhouse Feast which we can find
I went along with my sketchbook to Woodhouse Moor, on which the Feast was held. A Feast of this nature, I must note, is a traditional custom and consists of a fairground with round-abouts, swings, coconut shies and other amusement stalls. The subject I chose on arrival was just at the main entrance from the road and showed Corrigan's roundabout of motor scooters. Immediately behind was the helter-skelter tower and flanked on either side of the roundabout were hoop-la stalls.
Only a few moments after starting my sketch I was noticed by Jim Corrigan himself. He immediately came across and looked over my shoulder. Without further ado he asked me if he could buy the sketch from me. I told him it was only a slight note to be enlarged upon for reproduction purposes, but I could do him one suitable for framing. He was pleased with the price I quoted for such a job and said he would be staying a week before moving on, that is if I could finish and deliver the sketch in at time.
The drawing was published and the one I did for Mr. Corrigan I put in a suitable mount and delivered it to him on the Friday. I was given a most hearty welcome at his caravan door. He invited me inside to meet his wife and his daughter Cora. After scrutinising the sketch and showing his proposal I was invited to join them in an evening meal. I left about 10 p.m.
It was a luxurious caravan such as a wealthy fairground owner would specialise in after all it is a permanent home and money wisely spent on such a vehicle would be a good investment.
Many were the subjects I did for the "Weekly Post", including the erection of the Queens Hotel in City Square, sketched from the roof of the railway station. A ploughing match in full operation at Adel, cub hunting with the Bramham Moor and other hunting scenes with the York and Ainsty, Leeds City Market, Otley Market Place, dog shows at Harrogate and one or two country houses. All made good material for my pencil.
Some of Joe's drawings were reproduced in The Yorkshire Observer's "Weekly Post"
Click the button to view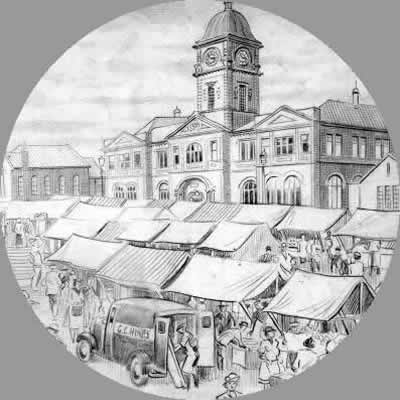 These images are sourced from his Sketch Books in Collection at Leeds Art Gallery
This is the end of Chapter
One, Two, Three, Four, Five, Six, Seven, Eight, Nine, Ten, Eleven, Twelve, Thirteen
NEXT TOP BOTTOM HOME

It was whilst working on the "Weekly Post" that a chance opportunity arose, which was to alter the whole aspect of my future. One, which would give me a better knowledge about horses, hounds and foxhunting and to supply more valuable experience, in many ways, in addition to lots of introductions to new friends.
The occurrence happened quite suddenly one Friday afternoon when I submitted my weekly drawing to the Art Editor. I went into the reporter's room with my portfolio, which was full of all kinds of drawings and watercolours. Placing them on the table I said to the few reporters present (more in fun than anything) "Take your pick, any sketch ten shillings".
A tall, well built young man with fair hair, whom I had never met before, got up from his seat and made his way to the table. He handled the drawings most carefully, placing each one alongside the portfolio as he inspected them. "Are these really yours?" he asked. I said they were and that most of them had been done during the early summer. "Surely you were not serious about the price specified - some of these are most charming - I would like one or two", he said, putting on one side I noticed, the ones with horses.
He offered me a cigarette, lit up himself and with a half-shut eye - held one of the drawings at arms length. This he put down slowly and did the same with another two. He paused for a moment, still drawing at his cigarette and then asked me to step into the corridor with him.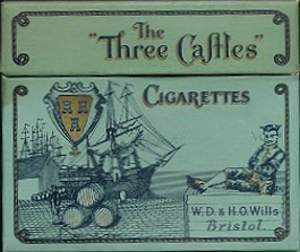 Joe's favourite cigarettes - Three Castles
Once outside he gently shut the door to be out of earshot of the other reporters. He then said, "Will you accept £10 for the three drawings I have picked out?" I was wondering whether I heard aright! However I accepted his generous offer. I'll see you in a few minutes." he said making his way to the adjoining office.
On returning to the reporters room I encountered my friend Edward Crossley and explained to him that the tall young man who had been looking through my portfolio had offered me a really good price for three drawings - I finished with some remark that if he did buy them he must be "crackers". Eddie grinned broadly and replied "Nay Joe! You're the one who's "crackers". Don't you know who he is?" I confessed I did not and was then informed the young man was David Astor. Explanations followed that David had come to the "Yorkshire Post" to increase his knowledge on newspaper work and had been given a reporters job for a start.
When David collected his drawings he asked if he might come to see my other sporting work at home. He came one evening and was impressed with most of the hunting subjects which I had to show. When he was about to leave he inquired about my joining him in a series of Yorkshire Professional Huntsman biographies and would I do the black and white drawings.
I accepted. The articles were to be published each week in "The Yorkshire Post" and we were to interview the huntsmen in the meantime.
Our first article was on Charles Littleworth out at the York and Ainsty kennels near Acomb. We set off one glorious sunny morning, there was a keen nip in the air and the atmosphere was clear and bright. It was not long before we were at the kennels and shaking hands with Charlie (description here from scrapbook). David made various notes in his interview and shortly afterwards we were shown round the kennels. They were quite old and the walls of the yards and the hound quarters were newly whitewashed which made excellent backgrounds for hound painting. Many were the hounds brought out that day for me to sketch. Finally we decided on a hound from the pack to be used in the article. When this was done Charlie invited us into his parlour where I made various notes and sketches of his face as he talked to David. It was late in the afternoon when we took our leave, and with a hearty and most sincere "Come again!" from Charles we came away feeling as though we had known him for years.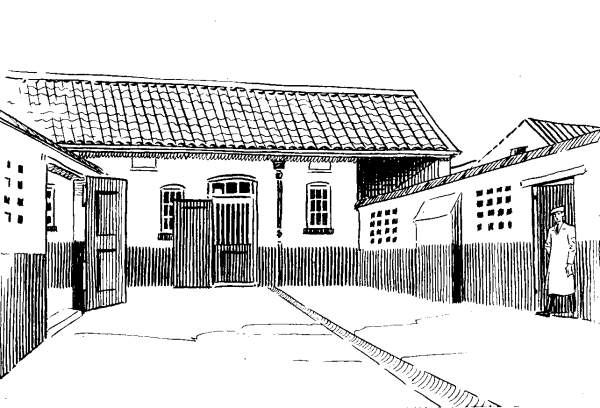 Joe's ink sketch of Kennels
In the week that passed I remember early one morning going out to a cub hunting meet of the Bramham Moor at Ingham's Whin.
I obtained many working drawings, and was lucky to get a really good impression of Lord Bingley, the master, as he halted for a while in the "ride". Another interesting subject at any meet is the terrier man. The one out this morning had two really good workers. They were crossbred Sealyhams. The following weekend saw my drawing of the meet published in the "Weekly Post".
More visits and interviews were planned to follow up the first article and in the meantime I had been painting and sketching to keep up with my exhibiting at the Art Galleries. The Bradford Spring Exhibition in 1937 showed a portrait sketch of "Golden Miller", Miss Dorothy Padgett's champion chaser. This was done I think when he made an appearance at Catterick Races.
My 1938 acceptance was a painting of Richmond from the Green and from this year to 1942 I was only able to get one out of two paintings in the exhibition.
Joe's painting of Richmond dated 1937
This is the end of Chapter
One, Two, Three, Four, Five, Six, Seven, Eight, Nine, Ten, Eleven, Twelve, Thirteen
NEXT TOP BOTTOM HOME

Nothing could be more interesting and down to earth than hunting with a trencher led pack of hounds. There are few of these hunts now functioning, where the hounds are boarded out and fed at different farms and other homes of keen followers. One such hunt, the Bilsdale, is reported to be the oldest in the country, dating as far back as 1668 when George Villiers, the Duke of Buckingham, was the master. To enjoy to the full an outing with these hounds is to be an early riser, and on such a morning we were privileged to escort the Huntsman Mr. Will Ainsley on the best day I have ever spent with the hounds. Will kept the Sun Inn and Old Spout House near Chopgate in Bilsdale, the two inns, (the Spout House now derelict) are situated on high ground, just south west of the North Yorkshire Moors.
Chopgate is bound on either side with some of the best views in Yorkshire, amidst high sheep grazing land, moorland and deeply wooded ravines victor. Easterside Hill is a landmark and was often introduced into my paintings whilst working in that area. We stayed overnight at the "Sun" and it was quite dark when we roused from our beds sometime about 6 a.m. After a most hearty breakfast of home-cured ham and eggs David and I trudged over the fields to the farm of Mr. Garbutt, (the whipper-in) where I was provided with a well built and sturdy looking fell pony. David had had his grey hunter sent over from the Cleveland Hunt, where it was usually stabled. I thought that the pony would not take my weight of 13 stones odd, but it was rather surprising up to what weight a pony of this breed can carry. Will had already arrived on his old Galloway mare and had brought three hounds with him. These were supplemented with two other hounds from Mr. Garbutt and in a few moments we were all mounted and making our way to collect more at the next farm.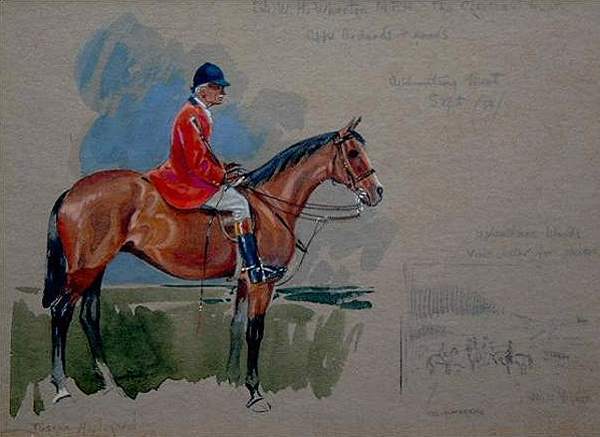 I have included this watercolour sketch of Col. W. H. Wharton
The Master of the Fox Hunt with The Cleveland Hunt
dated 1938
as it is exquisite and a painting which I will not part with!
Due to the custom and hunting instinct most of the hounds collected, were usually waiting for us at the end of each farm lane, but should they not be there Will gave a hearty blow on his battered copper hunting horn and the hounds hearing this would come bounding towards us. This procedure went on for about an hour and when all the hounds were assembled our progress was made to the venue of the hunt, high upon the moors towards Westerdale.
The hunt was due to meet at 10.30 a.m. and already quite a number of followers were there, mostly on foot. About eight or nine people were mounted, some on nondescript ponies, whilst others rode on well-groomed hunters. A few cars were parked at intervals on the rocky moorland road, whereas the more expensive cars and horseboxes had to remain on the permanent tarmac road over to the right.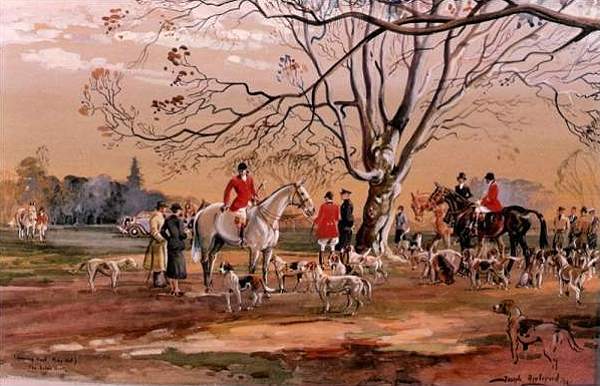 I have included this watercolour painting
The Opening Meet of the Bedale Hunt at Firby Hall in 1939
as it is contemporary with this chapter.
What a contrast the scene struck, when one compares the fashionable hunts of the shires and provinces - none of your cult-aways and business only plain ratcatcher and moorland mufti.
Scarlet was not in evidence apart from the faded mulberry coloured jackets of the huntsman and whipper-in and the "field" though lacking in colour made an interesting subject for painting. Having only pencil and sketchbook with me, the notes I made were quite brief, as I am best able to do my sketching when following on foot.
However it was my intention to enjoy the hunt which was to follow. Will made his cast in some thick high bracken - he whipped the hounds in well and with his musical voice encouraged his darlings to feather and weave like something magic. It wasn't long before a young hound spoke - she lifted her voice and head in a throaty appeal. But Will was not having any - he was too experienced to be misled by a member of the young entry and to show his disapproval and authority - whacked the thong of his crop above the disdainful offender. Only when "Bluebell" started to whimper did Will get excited. Yes! There it was! A low murmuring at first from the veteran hound, gradually growing louder and being taken up by the other hounds in chorus. In a few seconds a large hill fox was viewed away. It darted from the far end of the bracken scrub about two hundred yards away. I have always been working in sighting a fox in most of my hunts. This one was no exception. I had a marvelous view before he was lost in the brown colour of the moorland fern and heather. Often I think foxhounds are stupid and slow before they even realise the fox has actually got into his run. But once they hit the line then I always forgive them. Soon they were away swinging over to our left and down the sloping hillside to the wooded hollow.
Our fox had evidently made his way there, but now the hounds were beginning to skirt round the edge of the first wood and were making their way uphill on the other side. What a cracking pace they were going too! We paused for a moment to view the hounds.
Being mostly white, they were easily picked out running smoothly against the dark bracken. It was a marvelous sight and what music they were making - "You can't tune that on the wireless!" was an appropriate expression once of a well known Yorkshire Huntsman.
Very soon I was lagging behind, I am not a strong rider at any time and as far as being a "goer" I leave that to the more ardent foxhunter. My contentment was to breathe in the fresh air and to admire the colour of the morning. It could not have been better. The late autumn tints were accentuated by a warm sun in a clear blue sky. Most of these excellent mornings usually find an artist without paint-box or even paper on which to paint. However my method of making quick pencil sketches along with a few written notes on colour, enabled me to put down two views. By now the hounds were out of sight over the brow of the hill and the field were on the horizon, David's grey standing out in almost pure white, as did another hunter of the same colour.
The foot followers had made a detour with an upwards trend to obtain a grandstand view over into the other dale where hounds were running.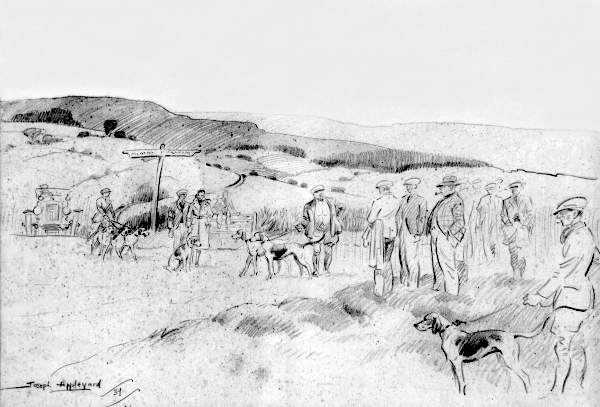 I have included this pencil drawing
The Meet at Fadmore
as it is contemporary with this chapter.
This position would be a good one for me too so I wheeled my pony round and followed in that direction. The pony was standing up to my weight quite well and I was thankful to have the opportunity to be carried by such a sure footed animal and in easy comfort - I could just feel the movements of his shoulders as he seemed to glide along. Only the sound of the swish and crunch of trodden dry heather under the hounds hoofs could be heard as we made our way onwards.
Arriving at the top to where the foot followers were making for I found I was in luck. Fox and hounds had veered round and were almost coming back in my direction - What an excellent view of the hunt I had now! The fox could not be seen due to his colour merging into the background, but the white hounds stood out and were running well, almost in single file with noses deep down. Will too was much nearer his pack and the whole scene was one to thrill any foxhunter. The members of the hunt rode along quite steadily two hundred yards or so behind their huntsman.
Whether my presence headed the fox, or else he had other ideas was hard to tell. Whatever his intention, hounds suddenly turned, wheeling round to the right in a huge curve. They were evidently right on his tail and keen for blood!
The end was imminent. Leading hounds pulled up quickly in their tracks, as others following seemed to collide on top. It was a real melee! Yes it looked as though the fox had been nipped and would now be smothered and dead under the weight of the pack. Only seconds later did the huntsman arrive, dominant and whipping away his hounds from the body of the fox. He stooped down and with his sheath knife cut away the mask and threw the remains of the carcass to the hounds. It had been a brisk run of just under 45 minutes. I made my way slowly down the slope and joined David and the rest. David remarked that I had missed a lot in not following more quickly, but little did he know that I had had the best view of anyone. I had lacked the enjoyment of the run, yes, but what a fund of material I had seen to help me in future paintings.
The remainder of the day was spent in following the hunt. Hounds were encouraged and lifted a few times, but a further scent or find was not forthcoming. It was most chilly as the day and light drew in and when Will called off the hounds and "blew them home" on the horn, the first stars were beginning to twinkle.
Hacking home was pleasant enough as we just jogged steadily along into the darkness down the rocky country lanes. By now most of the hounds would be loping wearily home to their respective farms. It is most astonishing how they do this and never get lost. It is also put on record that they have been known to hunt on their own on the homeward journey and carried on until almost midnight. I was pleased to see the lights of our farm, as I was saddle-sore and my limbs were numb. I dismounted and patted my pony heartily, for the excellent service he had given. Mr. Garbutt's boy led him away to the stable for the night. After seeing David's Grey boxed up and away, we trudged alongside Will on his mare back to Spout House. After a hot bath what a meal followed. Only a good Yorkshire housewife could have put on such a fare, Roast Duck with all the accessories, lemon pie, cheese and biscuits.
We repaired to the bar for the remainder of the evening chatting to the locals, mostly on the day's sport. It was a tired artist who "bedded down" sometime about 11 p.m.
This is the end of Chapter
One, Two, Three, Four, Five, Six, Seven, Eight, Nine, Ten, Eleven, Twelve, Thirteen
NEXT TOP BOTTOM HOME

A quick glance at the map, shows Glaisdale and its environs tucked away in a northern part of Yorkshire. Not unlike its neighbours, such as Bilsdale, Farndale and Rosedale it is made up chiefly of rough pasture and moorland. Glaisdale itself is a quiet little village and apart from its' hunt with hounds kenneled nearby, nothing seems to happen. Admittedly it is more busy at the weekend with the visitation of motorists and hikers, but the work-a-day week is as peaceful as in medieval times.
One fine morning during October I was invited to hunt with this hardy pack "The Glaisdale Harriers". Like the Bilsdale hunt already mentioned, the hounds hunt over similar country. At the time I hunted with them Mr. R. Brown was master and Jim Winspeare, the Kennel Huntsman.
It was truly a farmer's hunt and keenly supported by both mounted and foot followers. The Meet was held at the Duke of Wellington, Darley-in-Cleveland.
Mr. Herb, a big broad shouldered man, with a slight stoop, was dressed in a black jacket, rust red riding breeches, fawn cloth leggings and a neat hard bowler hat. He was mounted on a typical Yorkshire Cob, well up to his weight: bay in colour with a doctored tail and sporting a bridle, minus noseband. Jim in a faded scarlet hunting jacket was on a rough coated Galloway which had a long mane and unplucked tail. Raincoats in the case of each rider were rolled and strapped over the cantal of the saddles. Other mounted followers were typical of the many seen in Yorkshire and all favoured the black rat-catcher rig-out.
About thirty mounted followers were out. On foot those assembled outside the inn were numerous. I found it convenient this time to be out on foot myself and had in my raincoat pockets a box of watercolours and small flask of water, it being my intention to do some colour work.
When the hounds moved off they made their way up on the moor tops and moved over into Westerdale. Luckily I was offered a lift in a car and arrived at a good vantage point, which would enable a good view of the Dale from top to bottom. It was whilst waiting to see the hounds put to work that I was introduced to a few stalwarts of the hunt, David was present at the time and we were soon at ease with Tom Boyes, a horse dealer and farmer of sorts from Middleton-in-Cleveland.
What a character he was - a popular mounted follower clad in tweeds and jodhpurs with a hard hat - his horse was the typical "bit o' blood" and would have graced any point-to-point meeting.
He was accompanied by a Mr. Fred Middleton and he too was of the same ilk as Tom. Continually wise cracking and joking with everyone present - a remark Tom continually kept repeating throughout the day. I shall never forget. It was in reference to the hunted hare and was "It won't be long before we have his gizzard in 't' pot!" Meaning of course the hare pie supper, which was to follow in the other country inn at Danby. He also made the day more enjoyable by his encouraging calls to hounds. This may sound out of place in any other part than the Glaisdale district but such was the cooperation between huntsman and follower - no doubt Tom would have made a good whipper-in. Friend Middleton although the quieter of the two, certainly added flavour to anything Tom said. They were inseparable and even in the lull of the hunts quiet moments these two kept things going in their light hearted way.
Major J. Fairfax-Blakeborough, the well-known author and sporting correspondent was out, I think too, a Mrs. Lund, on a beautiful grey mare. Tom's son Lewis was present on another spirited looking bay, he being just as quiet as his father was noisy!


Major J. Fairfax-Blakeborough, the well-known author and sporting correspondent
Mr. E. Watson was also in evidence on a really good hunter. Others I have forgotten, but in all it was a most homely field and although David and I were strangers within their midst, we were made to feel quite at home.
Apart from an excellent day's hunt, much in the same pattern as the Bilsdale, I could not comment on the sport. My main objective was to paint and paint I did. Casting my memory backwards I remember doing three water colour landscapes - all within five hundred yards of each other. No hounds all riders were introduced in these sketches, but ultimately one sketch was used on a larger painting, showing hounds in full cry, being quickly followed by Jim Winspeare. Three kills were recorded that day - all in Westerdale. I was fortunate enough to be near the last one and saw a good run with the hounds coming towards me.
Now the hunt was over came the highlight of the whole show. The Hare Supper! Although my memory for pub names is extremely good may I be forgiven in not recollecting this one at Danby - I remember the place quite well, an old building with red pantiled roof and it was situated at one end of Danby Green.
And what a crowd assembled at 5.30 p.m.! All who had hunted that day plus visitors from nearby and all the locals!
Drinks before supper and a chat about the day's sport set off the proceedings. Afterwards the supper crowned with three huge hare pies and two veg. The company sat down in relays and it wasn't long before "gizzard in 't' pot" disappeared entirely by this ravenous human pack.
Once retired to the bar parlour, amusement and hilarity ran riot for the rest of the evening. Needless to say Tom and his friend were the main actors. It is good occasionally (Mark you I say occasionally) to be in the company of a hard hunting, hard riding, hard drinking crowd.
Drinks were flowing like wine, the room thick with tobacco smoke and everyone talking and shouting for all they were worth.
Tom soon had the proceedings well organized, when with a full double whiskey glass in hand (not accounting for whiskey already consumed) he blew a long last on the hunting horn. It was a ringing "whoop-whoop" which almost cracked the eardrum. Then rather unsteadily with liquor spilling from his glass, coaxed everyone into singing "John Peel". He sang the verses and all joined lustily in the course. Many good local songs followed including the immortal Blaydon Races. Luckily Major Fairfax-Blakeborough has cherished most of these songs and words in his manuscripts of folklore.
I tried to sketch a few of the scenes centred around Tom and Fred Middleton, but pencil sketching on such an evening was an impossibility.
Already I was feeling "fizzy" myself and must admit entering into the choral activities with gusto.
So things went on in this happy roaring turmoil until it was time for me to leave about 11 p.m. I was glad of the walk over to Middleton where I was staying; feeling much refreshed by the cold nip in the night air. We heard later that the proceedings carried on into the early hours of the morning.
One can just imagine the sun awakening to spread his comforting warm rays over the peaceful scene of Danby - Nothing ever happens here did I say? - Or does it?
This is the end of Chapter
One, Two, Three, Four, Five, Six, Seven, Eight, Nine, Ten, Eleven, Twelve, Thirteen
NEXT TOP BOTTOM HOME

Tommy Boyes soon got to know why we were in the Glaisdale and Cleveland area. "If it be a hunter I was after, painting" then I must do his "Huia" with Lewis up in the saddle. This was just the opportunity David and I had been looking for. After a short conversation with Tom it was decided that "Huia" would be portrayed on canvas set against a background of the Cleveland Point-to-point course.
What an occasion for him to announce to all his friends and the world that "Huia" was "loving 'is likeness tae'n - grandest 'oss ''in 't Cleveland 'unt" Ay 'by Mr Appleyard fra' Leeds! As though Leeds was some grand Utopian city. All this, was in Tom's sincere and honest world, as most can imagine - to have a golden opportunity from the blue to have a live artist, paint his favourite steed. I don't think he talked of anything else for weeks.
In the meantime what of poor Mrs B. - so quiet, efficient to the last degree, smiling quietly whilst her husband joked and bantered away.
Although with her husband's fondness for horses, her chief admiration was for the family terrier "Bandage". I could not even attempt to explain why he was so named. He was a border terrier and a firm favourite with Mrs Boyes. Forever within calling distance, be it in the house or in the yard.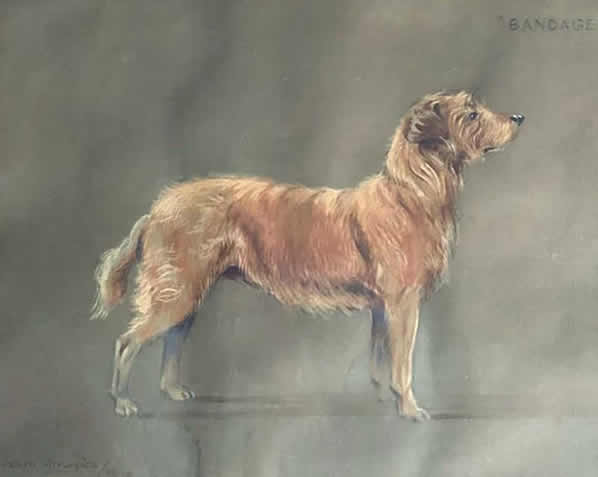 I told you Joe kept good records.
This is "Bandage", but now in colour thanks to one of our contributors!
Bandage, then, must be painted - even if only a small sketch and presented to her owner, - Mrs B's joy knew no bounds when I told her that the terrier was to be done. Although not showing the boisterous exuberance of her spouse, she implied with a quiet secret smile and twinkle in her eyes how grateful she was.
"HUIA", a bay-steeple chaser was kept in an old farm stable at the top of the yard. He certainly was a picture on the day I went to paint him - goodness knows how long Lewis had been grooming and titivating the horse - anyway he looked one of the finest hunted in that area and when brought out in the open was perfection itself.
Lewis held him patiently as I made my sketches. He hardly spoke a word, whilst Tom, just pottering around in the yard kept breaking off and tipping off his advice, with remarks as "Shove 'im ovver a bit Lewis!" or "Push 'is 'eaad up Lad!" and so on.
These remarks went unheeded, for one thing, Lewis, was used to his father's manner and secondly, horse painting is something captured and put down on canvas in various stages of movement and other observations - so obviously it would not have mattered two hoots whether we were instructed to sit the horse even on his haunches.
It wasn't long before my sketch was finished, and the remainder of the morning was devoted to painting Lewis in his jockey colours.
Then came the "sitting" for Bandage - It was nothing great just "Bandage" on a small sheet of grey paper, but a sketch which made a hit immediately Mrs Boyes saw it - Maybe it was better than I had anticipated, and as we all know a quick spontaneous sketch is far more convincing than a more elaborate work.
I was about to leave the farm, having donned my brand new Harris Tweed overcoat, when there was a shout from Tommy hailing me across into the nearby field. He had schooled, or I should be more correct in saying, was schooling a young Hunter, and had just dismounted. When I approached, Tommy asked me if I would mount as it was a "bit 'o weight" he needed (my thirteen stones odd).
Up I got, and lightly handling the reins, put the young mare into an easy walk, then into a steady jog, and back into the walk. "Fine" shouted Tommy. "Now tak' 'er ovver yon jump!" pointing to the lowest and simplest of brushwood hurdles.
In went my heels, and on we flew - I kept on flying in a different manner went into a somersault as the mare pulled up sharply I landed at the other side. My shoulders slid along the ground in the thick mud. What a spectacle I must have looked when I recovered - plastered from head to foot in thick black mud. Tommy I think was anxious for my safety, but when he saw I was all right he simply roared with laughter.
He rightfully apologised and it was Mrs Boyes who now had a grand opportunity to repay me for the picture of Bandage.
She, in time made a good job of my tweed coat and I myself, sponged down the rest of my suit.
After an early tea I left for Guisborough where I was staying with David.
Saturday soon rolled round, when I was to attend the Cleveland point to point meeting to get a background for the finished oil painting. It turned out a cold drizzly morning with a forecast of brighter weather ahead, and by the time we reached the course the rain had ceased.
It didn't take long to decide on a view. After a chat with Tommy, Lewis and Mr Middleton, it was decided that Huia should be in the saddling enclosure, with a background of flat and distant hills of Kildale on which was Captain Cook's monument.
After sketching in the background I made notes of other horses in the paddock, also a quick final sketch of "Huia" and Lewis.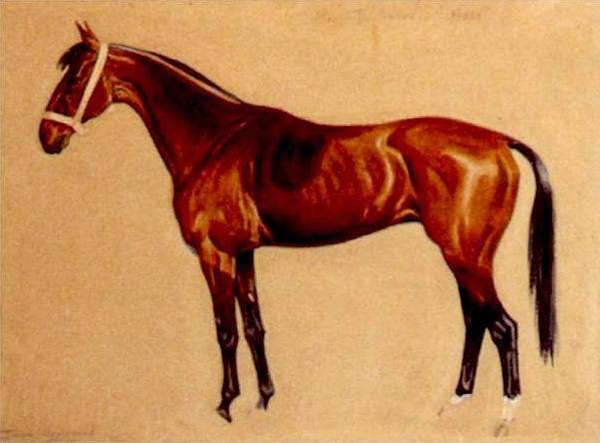 Yet another of the paintings that Joe mentions here
This one being "Huia", which found it's way into Joe's eldest brother's collection.
My thanks to Cousin Pamela for the image.
Then came the race in which "Huia" was entered. Tommy insisted that we back "Huia" for "Corn money" - whatever that meant.
- So "Corn money" it was - I backed him with a pound note at 2-1. - He was an easy favourite, proving this by the way he ran. Lewis held him nicely the first time around. They jumped high and clean and lay in either third or fourth position - Then in the second and final time round they gained on the leaders, and four fences from home it seemed that new life had crept in - They showed a clean pair of heels to the leader and romped home by lengths.
Only during the last race, did I see anything like a good sky worth putting into the painting - this I tried to memorise, but eventually I worked from a fairly good sky in another hunting sketch.
The finished oil painting came off my easel a fortnight later - we had it framed and took it over to the Boyes.
They all agreed it was a good painting "Ay! Grandest "oss in "t Cleveland 'unt!"
This is the end of Chapter
One, Two, Three, Four, Five, Six, Seven, Eight, Nine, Ten, Eleven, Twelve, Thirteen
NEXT TOP BOTTOM HOME

Shortly after painting "Huia" another good commission came my way from Mr. J. B. Peat of Ormsby near Middlesborough. I met him at a meet of the Cleveland Hounds at Pinchinthorpe, when he asked me if the old Grey horse on which he was mounted was worth painting. Now it is a queer thing, this question is usually asked in a most off hand manner by quite a few proud owners. They know quite well the horse is worth painting and I'm sure what is more would realise an artist would be a fool to say it wasn't.
Anyway from a pecuniary artists point of view any horse is worth painting if the price is agreeable. Apart from this I have always a great admiration for a grey -what sporting artist hasn't? From Wootton to Munnings and what finer painting than Stubbs' Gray horse at the edge of a wood in The National Gallery.
Not sure if this is the Stubbs painting to which Joe refers
It was to be an exciting painting too, from the point of view that Mr. Peat himself was to be mounted in his hunting pink and silk topper.
The background, which is all-important, was to have Roseberry Topping in the distance. This eminence was abruptly like a huge volcano with a pointed top surrounded by flat pasturelands below and is situated in the heart of the Cleveland Hunt.
I went to paint the old "Silver" at Park End, the home of the owner. It is always a thrill to me to see a horse led out of its stall or loose box - almost like a pleasant surprise when receiving a gift as a child. A groom of the old school was at his head and held him quite still as I commenced my preliminary drawings. When this was done, Mr. Peat invited me into the house where a short drink of warm sherry was most welcome, as it was bitterly called out of doors. We then went outside where Mr. Peat, now in hunting kit got up on to the Grey. I worked with intense care, as I know this had to be a good likeness of the owner. He sat extremely well and when I had finished my colour studies, another drink awaited when we finally went indoors.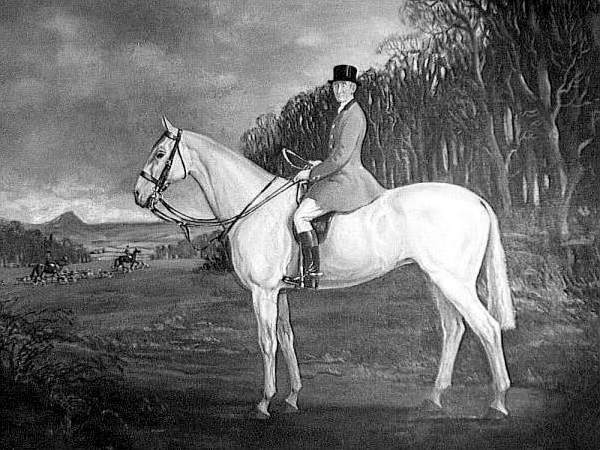 Joe's painting of Mr. J. B. Peat of The Cleveland Hunt
with
Starvation Plantation and Roseberry Topping in the background
The background was done a few days later. I think the name of the wood was Starvation Plantation, which was introduced behind the horse and rider, with Roseberry Topping away in the distance. My final oil painting was carried out in the studio and was on a24"x20" canvas. The execution of the finished work had its usual snags, but worth perseverance and patience a result was arrived at where there was something of a likeness. A horse portrait never worries me - it is only when a rider is introduced, where I find myself struggling hard to get a facial likeness.
The painting finished, I packed it and took it to Park End. On arrival I was welcomed by Mr. and Mrs. Peat. I unpacked the picture, which was then placed propped up against the wall on the top of the sideboard.
This is a moment I always dread - dead silence as critical eyes are run over every inch of the picture, a gentle sip of sherry, a pull at a cigarette - it seems hours before anyone speaks. Then in this case Mr. Peat remarked - "Excellent!" - Mrs. Peat joined in with -"You look rather old dear! " - "Well I'm not a chicken!" Rejoining her husband she laughed off the remark with "we're both old' uns me and the veteran!" - "It's a good picture young man, I suppose you are ready for your cheque!" I then finished off a most enjoyable morning as I was taken round the house and shown quite a number of sporting paintings - some excellent hunting scenes by Lionel Edwards. I remember quite clearly one or two originals and a number of his prints.
I took my leave after lunch and got on a bus back into Guisborough where I spent the remainder of the day, pulling one or two sketches together in preparation for two paintings which I was to send to be Northern Artists Exhibition at Newcastle Art Gallery.
It is a strange thing that whenever I have painted a horse portrait - the horse inevitably takes my interest whenever I see it out hunting or racing. "Silver" always looked good, moved well for his years and when I last saw him out, in the autumn of 1938, I sketched him once again. Whatever his end in the long run, I feel sure that his staunch and proud owner, along with myself will have many happy recollections of this old and faithful veteran.
This is the end of Chapter
One, Two, Three, Four, Five, Six, Seven, Eight, Nine, Ten, Eleven, Twelve, Thirteen
NEXT TOP BOTTOM HOME

A visit to Hunt Kennels by sporting painters is quite a frequent thing. The times most suited to the occasion are during the hunting months in winter, when numerous sketchbooks are filled with useful working drawings in preparation for finished paintings.
Visits then to kennel and stable during the summer, throws an entirely different light on things. No longer are the hounds tuned up and keen for hunting, but tend to appear listful and lazy, as they drowse away on the store benches. An occasional whimper and many a long drawn out yawn is observed as the old one or two rise on their haunches for a welcome stretch of limbs. On such a hot day as this I had an enjoyable time with oil paints, canvas and easel. I was met in the morning by Sam Kilburn, the huntsman, who showed me round. Like all professional huntsmen, he was keen to show me everything, from the best bitch hound to the roughest crossbred Welsh. He had a good word for each and had exceptional praise for the oldest hound in the pack.
A few of his favourites I put down in pencil and by the time we had gone the rounds, I was itching to start on an oil 24x20 of hounds asleep on their benches. It was a new canvas which I had toned down with transparent raw umber and before long I was sketching in with the brush the scene before me. Everything went extremely well, although the afternoon was hot and the interior of the lodge was stuffy to a degree. Most pictures with hounds indoors compose themselves and mine at this moment was no exception. The pattern of the pack at the time was one of balanced black, tan and white, with just the occasional mealy white to break the monotony. My whole scene was one of warmth, with the browny tan of hounds intermixing with the flaxen gold of the straw and the warmth of the stone flags of the floor. Only the creamy whitewash on the walls suggested in any way a slight hint of coolness, balanced again by the white markings on the hounds themselves. It was a day when I did everything with apparent ease and by the middle of the afternoon the painting was well on its way to being finished. Only when Mrs. Kilburn called to me to have a cup of tea did I realise that time was flying. It was a welcome break, as I sipped the hot tea and enjoyed the buttered scones, chatting the while to Sam, who had also broken off his work for a refresher. He came back with me to see the painting and no schoolboy could have been more overjoyed, as he stepped back to take in the scene at a good angle.
His enthusiasm knew no bounds as he picked out "Raglan" there an there's Hermit another- this'll be Honesty- Ohe aye! and that's Minister to a T!"
This is criticism at its best honest, sincere and above all encouraging. No doubt Sam could have suggested many an alteration or improvement but his first impact was one of seeing his own canine family grouped together, "There before his eyes! " as he said at the time. He was pleased - I was more than pleased and I think it was with a deep sense of pride that I took the painting off the easel when I finished.
The following day I had to be at the stables, the master Mr. J. M. Barwick having commissioned me to paint two of his greys and a chestnut.
Again I was up quite early (this has always been one of my good points) my materials for sketching being prepared the night before, I was able to be at the stables by nine o'clock. It was a brilliant morning with prospects of another hot day. Stud groom Peter met me when I arrived, amidst a scene of brisk activity as the lads were brushing and scrubbing, with buckets clanging, bolts rattling, horses stamping, straw swishing, everything hustle and bustle.
The two greys were beautifully groomed; one a flea bitten gelding "Bailiff", the other a Dapple-Grey mare named "Margaret Rose".
They were perfect models. I worked on them all morning and by noon I had everything I required in readiness for final oil paintings. After lunch, the chestnut "Lanson" was led out, not a good looker, but a good 'un to go. He had a full white blaise and was stockinged up to the hocks on his hind legs-his fore legs white markings were also predominant. He was well turned out and carried his tail high.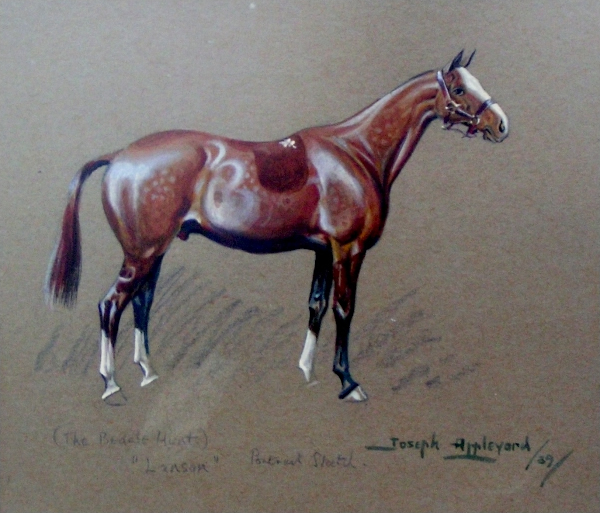 Joe's Sketch of "Lanson"
This image was photographed in January 2011 following and e-mail from a contributor
who had recently purchased it from an Art Dealer in Wetherby
These are the types of horses I like painting, what they lack in looks they have in substance and character - "Lanson" being the ideal common Irish hunter. By teatime I had shot my bolt as far as painting was concerned, the heat of the day was unbearable, although I was in the shade most of the time. Sam came round and invited me into the cool kitchen of the house where Mrs. Kilburn had prepared her usual cup of tea and buttered scones and how Sam could chatter! Reminding his wife about "skimmin that milk" then turning to me "what do you think 'o 't owd chestnut? " "I say mother, we mustn't forget to water those plants tonight" - pointing to some withering green on the dark earth. "What time did Stanley say he would come tonight?" - "You know Mr. Appleyard them greys is as 'ard as nails!" - And so he went on from one thing to another. But Sam was always good to listen to and one never tired of this small light-hearted man and to sum him up in one of his own phrases (although this was in reference to a horse!) "E 'ad a heart as big as a melon!"
Walking back to the local pub in Fencote where I was staying, I couldn't help thinking how well it would be if everyone we met had the same charm, wit and smile as Sam. But then that would be asking too much and we must be content to accept with gratitude all the good things in life just when and where they come.
My evening after dinner was spent in doing a small water colour sketch of a cottager in his garden and I thought immediately about Sam and his plants - I hope mother reminded him. When it became too dark to paint I packed up and with a shudder, the air was getting cold and I went into the Bar Parlour of the Inn. I sat and watched the locals play darts and having had a nip of sherry just before tea was soon upstairs to bed. Sleep was impossible, as the bedroom was stuffy. I heard the locals leaving, someone remarking that it was a bloody sight later than he thought.
Whatever time that was I couldn't say as I tossed and turned in my efforts to gain some sleep. I thought of many things, future subjects, Sam, the greys, the kennels, easel, paints, crayons, until eventually I was in a whirl of horses, hounds, fields, cottages, falling, falling, falling gently, into an easy sleep.
"Hounds at exercise" and "hounds feeding" are two subjects in which the sporting painter can really express himself. What more homely and sincere painting have we than Fernley's Lambton Hounds at Feeding Time. This is full of the essence of hounds and kennel man "at home" and shows a keen observance of the artist for the most accurate and essential detail. Without this, any such painting would be futile and Fernley, master as he was, must have spent a good deal of time watching hounds in kennels, to get the atmosphere of the scene. Of hounds feeding, I have, myself done only five, the first one at the Hurworth kennels, one of the Cleveland, two of the Bramham Moor and one of the Goathland.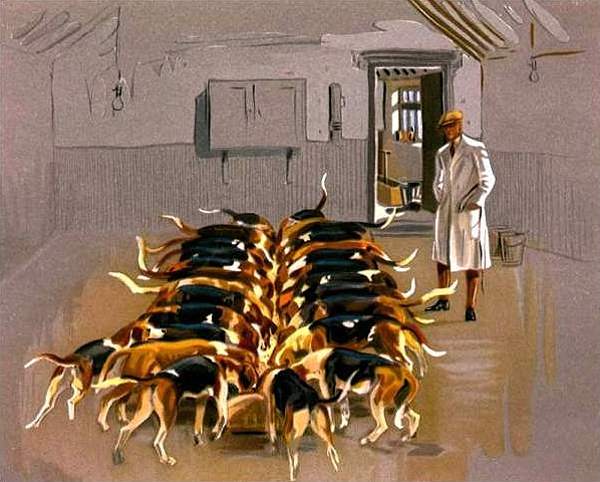 Joe's watercolour of Feeding Time at the Hurworth Hounds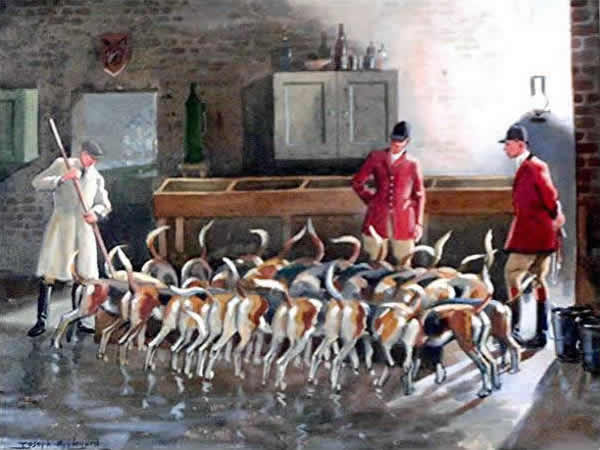 Joe's watercolour of Feeding Time with the Goathland Hounds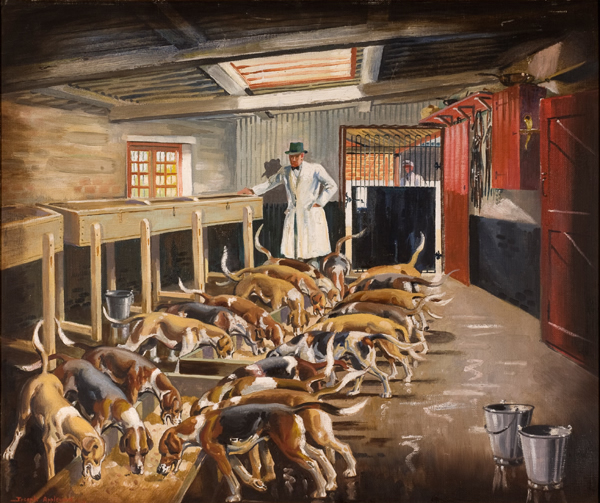 Joe's oil painting of The Cleveland Hounds at Feeding Time
Thanks and acknowledgements are extended to the Public Catalogue Foundation
for this image kindly e-mailed to us, following our discovery that it had been catalogued in
The Tyne and Wear Catalogue as being in the Collection of The Laing Art Gallery, Newcastle
I thoroughly enjoyed doing them and each one when completed not only gave satisfaction to myself but also to my patrons.
My first picture of the other subject "hounds at exercise " was done at the Bedale kennels during my week's stay there. As usual Sam invited me out with him to " take 'em for a trot!" The good weather still continued and I was able to study the hounds and their movements in strong sunlight set against some of the most picturesque of the Bedale country.
Unlike Sir Alfred Munnings, I favour scenes with horse and hound in the more grey hunting atmosphere, but on this day it was an exception I was so impressed with the brilliance of the light and colour of everything that I was impatient to get on with an oil of fairly large dimensions.
In the meantime I was happy to walk with Sam and his whipper-in and make mental notes of the things that were of interest and importance. How clean Sam and his colleague looked in their crisp white overall coats and each sporting a neat fawn coloured bowler hat, Sam's put on quite straight and with no intention of sartorial appearance, whilst the other gentleman's was arranged at just that rakish angle which gave much the desired effect. Despite the differences they both looked really dignified and surrounded by the colourful hounds made the ideal picture. A few of Sam's comments to and about his hounds as he walked along are well worth recording - here they are "Yes Crystal is an 'onest matron an' not one of your Peterborough mannequins! " "Up "Chanter" you old varmint! " or "never seen such beauties, as even as a pack 'o cards!" and "back Charlotte, you'll be gettin' run over - I don't want to see you 'untin' on crutches!" "Now then "Pansy" put your glasses on!" as she bumped against a fence; this also brought about a smile. Eventually we came to a turn in the lane, which demanded my special attention. I mentioned to Sam at it would be an ideal setting for my painting, having as it did, a rough oak tree, a deep ditch and a partly broken fence. We halted for a smoke, whilst I hastily scribbled a rough composition in my sketch book-this then, would be my venue for tomorrow.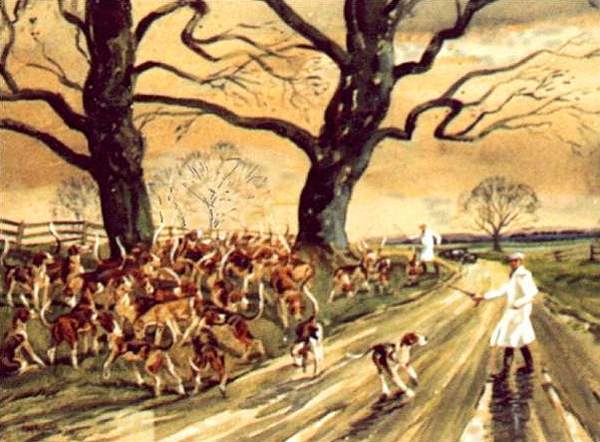 "Hounds Exercising"
dated 1936
This could well be the picture to which Joe refers
still in the family with my cousin Pamela
Our short interlude finished I trotted on ahead in readiness to observe the pack and huntsmen coming towards me. When they did appear from behind a bend in the road, the roughest scribbled drawings were done in the sketchbook and I felt then that the outing had well been worthwhile. Arriving back at the kennels meant of course, those delightful buttered scones and tea served by Mrs. Kilburn and Sam remarking "Mr. Appleyard would like your receipt for the scones for 'is wife." meaning of course recipe. Thus ended a glorious afternoon. Memory dims my recollection of the painting but I have done quite a number of "hounds exercising ", one just recently with the same Bedale background. This showed hounds in snow, the fawn bowlers worn by the men being replaced by the winter black ones. It was a large watercolour and was bought by a member of the Bramham Moor Hunt. Another, a larger oil, now hangs in the Foxhill Country Club, Leeds and has depicted George Gulliver with his hounds passing through Bramham Park, a really typical English scene. On my easel at the moment is an oil painting at the "rough in" stage of "The Badsworth Hounds at Exercise.". Yes these two incidents behind scenes are still strong favourites of mine.
This is the end of Chapter
One, Two, Three, Four, Five, Six, Seven, Eight, Nine, Ten, Eleven, Twelve, Thirteen
NEXT TOP BOTTOM HOME

I have had contact in odd corners throughout Yorkshire, with the few remaining gipsies now traveling the countryside, some good, some indifferent, but in my opinion never bad. There are much bigger rogues in life, who profess to be educated and purport to be pillars of society, making the worst gipsy appear as an angel if the two were compared. However I am not here to discuss the morals of any one in particular, but to give my impressions from the artists viewpoint.
The first gipsies I met, to really talk to and make pictures of, were up on the moors at Ugthorpe, near Whitby. A first impression, is one never forgotten and I can see them now, pulled up on the shale roadside, as the road itself wound its silvery way along, through the dark brown of fern and heather.
A narrow grass verge held the encampment of three hooped wagons and a decorated Romany caravan. The communal fire had not yet been lit, children were making daisy chains, the men folk were sat round talking whilst wives were pottering about inside the caravans, with the exception of one, who was hanging out some washing. Cocks and hens were cackling around, an odd lurcher or two laying idly in the fitful spasms of sunlight and the shaggy skewbald ponies grazing contentedly just beyond the caravans.
This made the ideal setting. I did not have sketching tackle with me, but was determined to come back later and paint the scene in watercolours. I did go up to the men and offering one a cigarette, asked if they were staying long. He was a shifty looking individual, but I found out later, that nearly every gipsy one meets conveys this impression, which belies, the good and sincerity in them. He told me he would be there for three or four days and after offering the other three cigarettes, gradually working up to my point of coming out to sketch them.
When I mentioned this, the first one I spoke to asked me to wait a moment, whilst he strode away towards one of the caravans. He came back in two minutes with a flat parcel under his arm, which he immediately commenced to unpack. As soon as the wrapping had been taken away he carefully placed a drawing into my hands. "This was done at Kidderminster, " he said. It showed a most careful drawing of the gypsy encampment done with a soft pencil and had no doubt come from the hand of an artist who knew his job - I have unfortunately forgotten his name, but the gipsy informed me that he always painted them whenever they were in Kidderminster. "And good he was, always worked on a trestle and squeezed the paint out of tubes!" "He did a lot of sketches too and gave me this one as a present." I remarked on how good it was and that he was really lucky to have such a drawing.
On departing I said I would be back next day and would do him a drawing of one of the ponies as my present to him. They all shook me by the hand when I left.
Next day I arrived with a packet of Woodbines for each man and a half pound box of chocolates for the women to share, whilst the children's' treat was I think liquorice all-sorts in 1/4 pound bags. I did this knowing that anything of this nature was really a luxury, choose how small the amount and also would buy my popularity whilst with them.
Needless to say, my visit had been well timed and anticipated. There seemed to be an air of tiredness round the place and various items had been cleaned and polished, but the most outstanding thing was the well-groomed skewbald pony, which stood out completely from his duller companions. He had evidently had a good brushing down with dry ferns and an attempt had been made to fix the horses mane, in an effort to have it hung over to the off side.
Be that as it may, everything was ideal for my day's work. After having a few minutes chat I put up my easel and was told it was the same style of "trestle" as the gentleman in Kidderminster. "Did I want anything moving?" "No it is quite all right" I said and being the sensible man he was, left me and went about his own business. The children came along at intervals but were not any bother. Each time they were called away by their mothers and told "they mustn't be a bother to the mister!"
I remember working away quite hard and by dinnertime had finished an elaborately laboured watercolour painting. I did not like it. For a change I went across and told my friend I was ready to sketch his pony. At this he was so thrilled and with the grace and agility of a deer was springing over the bracken to retrieve his favourite. Whilst holding it for me to sketch he ordered a jar of tea to be brought to me - he knew I had some sandwiches.
I broke off to drink the tea with much appreciation. I was dubious to a degree - it being served up in an old ribbed earthenware marmalade jar. After the first sip my fears were allayed however - it was not one of their concoctions, but a strong brew of tea without milk and a liberal slice of lemon floating on top. It was beautifully sweet too and whether it had any other ingredients unknown to me I can assure you it tasted far better than the Russian Tea in the best hotel.
This is the end of Chapter
One, Two, Three, Four, Five, Six, Seven, Eight, Nine, Ten, Eleven, Twelve, Thirteen
NEXT TOP BOTTOM HOME

Shortly before the war, I had a studio at Kennels Farm, Knayton Moor.
It was typical of most North Riding farms and was nestled in the soft landscape just north of the market town of Thirsk. Situated as it was near to the foot of Boltby Bank at the south side, flanked by the extreme end of Sutton Bank range in the east it was an ideally sheltered spot. To the north and west it was exposed to a more vast and open space consisting chiefly of plough and pastureland. Away to the north the contour of the Cleveland Hills could be plainly seen. The farm was occupied by Mr. Tom Fletcher, his wife Madge and their only son Jimmy.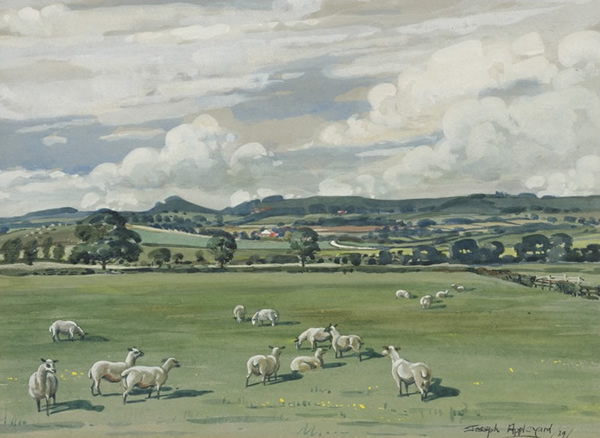 Knayton, near Thirsk
painted in 1939
This image was sourced on the Artuk website in May 2023
It is in the Borough of Darlington Art Collection
Tom was a quiet taciturn kind of man, his main interest in life being horses. He was a dapper man, fairly tall and slim, clean-shaven with slightly hooked and pointed nose, clad in sports jacket and riding breaches, he favoured mounted travel within the region of his farm. His knowledge of horses made him a well-sought judge in the hunter classes at many shows. He bred, reared and schooled his own hunters and when they were finally turned out he would sell them to people in the local hunts. A hunter bred by Tom Fletcher was a sure thing, due to the time and patience he devoted to their care, making them manageable for anyone in the saddle.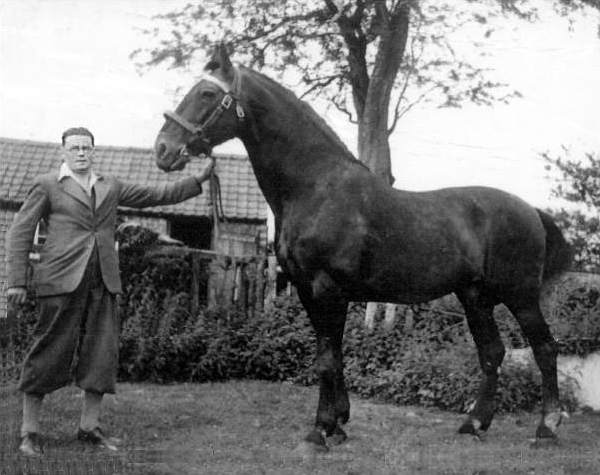 Joe with one of Tom's horses
Naturally he had a good eye for a horse and was my keenest critic whenever he saw any of my paintings. He always said that my hounds were much better than my horses and in some ways I think him to be right. Due to his kindness and interest I have him to thank for my advancement in horse portraiture. All his horses were forever at my disposal and I painted them day after day, gaining extra knowledge each evening as he criticised them from the horseman's point of view.
Our quieter evenings were spent playing darts in the kitchen. Tom "threw a nifty dart" and would put to shame any village expert in the local pub. Jimmy too, was a good player, whilst I myself also had a good eye and steady aim. We must have played hundreds of games of three hundred and one up, but we were always ready for bed at 9 p.m. This was a strict rule at Kennels Farm and gave proof to the proverb "early to bed, early to rise. "
Tom also get a good few sheep and I remember on one occasion at sheep-shearing time doing three water colours showing the shorn sheep grazing in the fields. It made a welcome change from the usual run of horse study, which was my chief interest at the time.
With his usual generosity and good nature Tom always let me have the loan of quiet hunters, on which I used to hack around the fields and country lanes, forever on the lookout for good sketching subjects. Occasionally I went rabbit shooting with Jimmy and many is the rabbit pie supper we have enjoyed at 8 o'clock on a summers evening. I remember too, one evening, having to run for it pursued by a new Ayrshire bull which had been placed in the field unknown to us, the day before. Another time bringing back to brace of pigeon, when I was sent out to get a rabbit. Tom laughing heartily and telling folk afterwards that rabbits around Knayton nested in trees!
It was all good fun and I enjoyed every minute of my stay there. One watercolour which remains in my memory, a painting which my brother has hanging in his office, is of a ploughing scene at Nether Silton.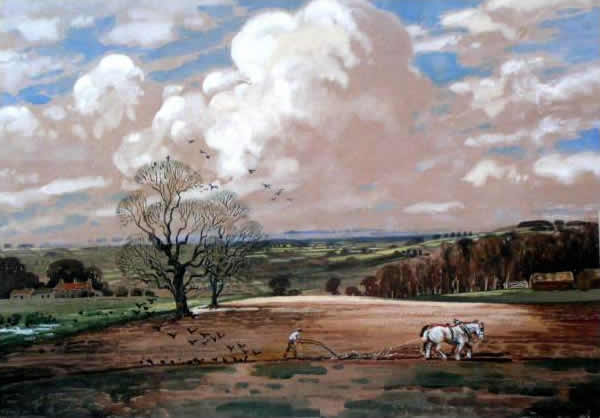 Ploughing at Nether Silton
Yet again the said painting, still in the Family
What a glorious day it was when I set about the job. High cumulus cloud floating gently across the sky, the strong brown earth as the plough turned it over, the stark bare trees, against a bluish grey landscape background and to finish the scene two grand dapper grey horses plodding steadily forward. It was a painting I never exhibited, I don't know why-but it certainly was one of my best during that period.
This is the end of Chapter
One, Two, Three, Four, Five, Six, Seven, Eight, Nine, Ten, Eleven, Twelve, Thirteen
NEXT TOP BOTTOM HOME

Whilst living at Kennels Farm, I followed the Hurworth Hounds quite frequently and at a later date stayed in the village of East Rounton to be near hand to the kennels. Miss M. Furness was master at that time and hounds were in the care of Ted Littleworth, a younger brother of Charles at the York and Ainsty. The kennels at West Rounton were comparatively new buildings constructed mainly of red brick. The lodges were roomy and airy, whilst the yards were both large and well drained. A spacious grass paddock was at the back, providing ample room for exercise when required. The pattern of the pack was fairly mixed dark brown and tan, being predominant over the usual brown, black and tan. A few mealy, lemon and off white hounds made up the number. This balance was about the same in each pack of dogs and bitches. It was in the bitch pack that Miss Furness had her favourite, a mealy and white hound called "Seemly ". She asked if I would paint a portrait of small proportions, so a size of 20" x 16" was decided upon and my studies were done at the kennels on a sunny autumn morning.
"Seemly" was well behaved and Ted had little difficulty in getting her to lift her head and stern in order that she should be on the alert in my finished painting.
At the time, I was reading "The Melton Mowbray of John Ferneley" by Major Guy Paget and must confess I was so impressed with a reproduction in the book, one of the famous "Rallywood " that I, in my own humble way, tried to emulate.
When the studies in watercolour were done, it did not take me long to find an old gnarled oak tree in the grounds of Otterington Hall, the home of Miss Furness, to be used as a background for my painting.
Now it is an extraordinary thing that although most of the best of the old paintings of horse and hound have in common, a limelight effect cast onto the animal portrayed, they still have an irresistible charm to the onlooker. The foregrounds, always well drawn and observed, have something of a stage setting about them, whilst the middle distance and background is most natural usually taking the form of the country house in its parkland.
Such a painting of this I had then succumbed, from the hand of Ferneley and helped with the reproduction alongside my studies, I endeavoured to bring off something good. It was an interesting experiment and one, which I occasionally fall back upon, when wanting a complete change from the usual modern and brighter version of horse and hound portraiture.
When the painting was finished, I could not bring myself to like it sufficiently as I had first hoped. However I "lived" with it for a few days before taking it to Miss Furness. When I did, she liked it immediately so much so, that she commissioned me to paint one of her favourite hunters, a mare name "Kitty".
Being fairly busy with other work I was unable to make a start on this portrait until December and when I did there had been the first fall of snow for the season.
"Kitty, The Hurworth Hunt", dated 1940 was Auctioned at Tennants of Leyburn
just over twenty years ago on 23rd September 1996 for £500.00
This was lucky, because I was determined to do this portrait in a snowy setting. It proved a good thing too as "Kitty" was a lovely warm bay set against a background of sunlit snow, with a groom holding a striped rug.
Miss Furness came round whilst I was working and commented upon my painting of "Seemly" which had made a big hit with all her friends when they came to visit -"If 'Kitty' is as good a painting when finished I will be satisfied" she remarked. Personally I did not think it was half as good a job as the hound, but it found favour by being hung over the mantelpiece in the study of Otterington Hall.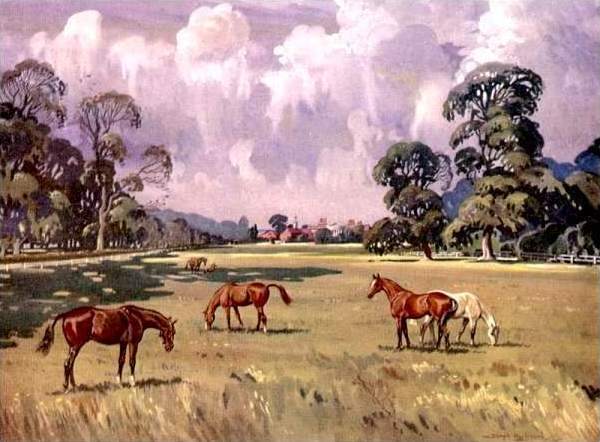 Joe's watercolour painting of
"Hunter's at Grass, Otterington Hall"
which was reproduced in colour
in a wartime issue of The Yorkshire Dalesman
My next picture done at a later visit to Otterington Hall was of hunters at grass and was painted for my own pleasure. This turned out to be one of my best and was eventually reproduced in colour in a wartime issue of "The Yorkshire Dalesman ". I have a cutting as a reminder, the original being sold in due course to a professor of Economics at Cambridge University in 1945.
In each instance during the work involved at Otterington and Rounton, I cannot praise too highly, the enthusiasm shown and the help given to me by Ted Littleworth and would just like to give a brief outline of his career. He was born etc (see article). have been unable to find said article.
In many ways each professional huntsman inherits some characteristic from his predecessors and these characteristics perhaps bear a close resemblance to the ones of their fellow huntsmen in other packs. As in Ted's case - he had a dry wit, similar to that of Sam Kilburn of the Bedale.
To end this chapter, let Ted finish it with "We're all artists of a sort - me with me 'ounds, a groom with is 'orse, we can all use a whitewash brush an' brighten a place up a bit, but we'd make a damn poor fist of it if we tried your game Mr. Appleyard ". - I have often wondered, would they?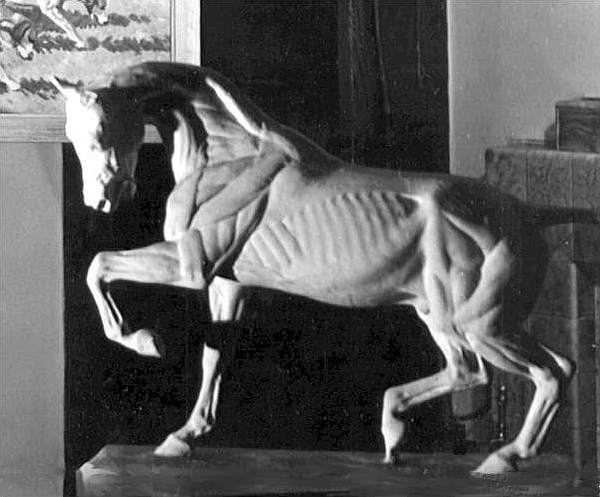 We include this image of Joe's Plaster Cast Horse
which unfortunately got blown off a window cill.
We are not aware that Joe made this model.
This is the end of Chapter
One, Two, Three, Four, Five, Six, Seven, Eight, Nine, Ten, Eleven, Twelve, Thirteen TOP

Joseph Appleyard's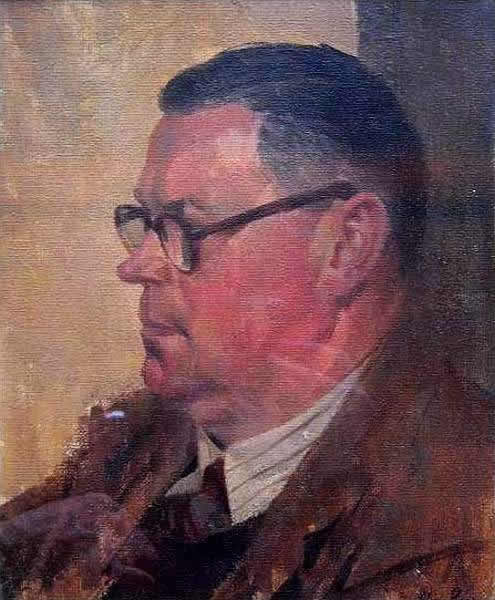 AUTOBIOGRAPHY