Joseph Appleyard's Pages from a Sketch Book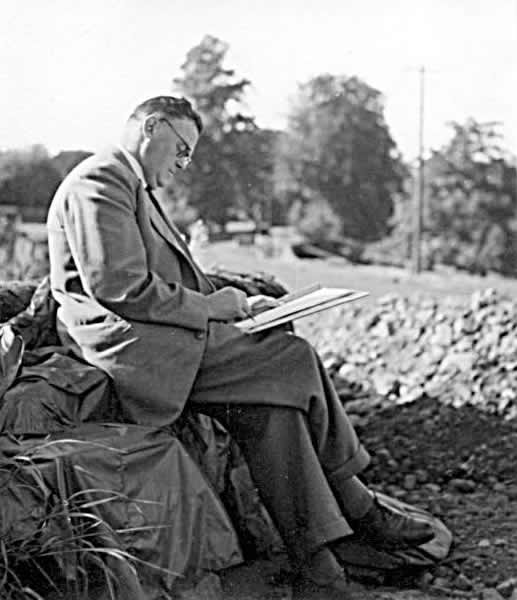 Joe sketching with his Swarthmore Evening Class
This site includes a transcript of Joe's we found entitled "Pages from a Sketch Book".
We have been unable to find the actual sketches intended for this script,
but shall endeavour to include comparible sketches when time permits.
Most of Joe's sketch books were donated to the City of Leeds Art Gallery, shortly after his death
and are well worth the effort of making an appointment to view.
Leeds Art Gallery, The Headrow, Leeds LS1 3AA
Telephone: 0113 378 2097
Email: museumsandgalleries@leeds.gov.uk



RICHMOND FROM THE GREEN
This sketch was made on one of my rare visits to Richmond: but this medieval town of narrow streets and red tiled roofs, huddled beneath the mighty Norman castle which stands high above the river Swale, will recall me I know, once again, armed with sketch book and pencil.

GOING TO THE SHOW
This rather amusing subject made its instant appeal with the bobbed tails of the horses, this is an art kept alive by many competitions at agricultural shows and cart horse parades.
Occasionally one sees a smart turn-out on the road, a high stepping horse, harness spick and span and a brightly painted gig.
Invariably the horse has a bobbed tail.


TOPPIN' AND TAILIN'
On a cold but sunny morning in March, I was on my way through the fields near Thorp Arch, to make some rough sketches for a hunting picture, when I saw this young man, obviously as cheerful as the morning, cutting the tops and bottoms off mangles. During our conversation he referred to his work as "toppin' and tailin'", hence my title for the sketch.

LUNCH TIME
(No comments)

JIM KINGDOM
I first met Jim Kingdom at Temple Newsom a few years ago. It happened after I had viewed a very good exhibition in the mansion, I saw him huddled in the shelter of his caravan, surrounded by his few piebald ponies and shaggy donkeys. It was as though the Moorlands I had seen on the walls a few minutes previously had transformed themselves into this living scene.
As most artists who draw horses have a sneaking fancy for a piebald, I immediately made my way across to the caravan.
It wasn't long before Jim was telling me about his mode of life. It appeared that he visited almost every Northern Fair giving donkey rides to the children. That was during the summer months. The winter months found him dealing in scrap iron at West Hartlepool.
The portrait sketch was not taken until two or three years later when I saw him at Kirkstall Feast.

STUDY OF A FOX
Mr. Ted Littleworth, huntsman to the Hurworth for many years, was chiefly responsible for the satisfactory result of this sketch. He it was, who took me to see a vixen and taught me how to approach within sketching distance without disturbing them. I went prepared for a few sketches taking with me a pair of field-glasses, which proved quite useful.

ON GOATHLAND MOORS
Leaving Whitby from the south, the road to Goathland creeps through the valley of the Esk, then climbs abruptly to this peaceful isolated village on the moors. I think that Goathland in snow would afford many a fine scene.
I intend to try it some time.



IN THE LAMBING FOLD
Early spring is a busy time for the sheep farmer in his portably erected pens of wattle fencing, put up as a protection against the biting March winds. The stone walls of the dales make good shelter from the elements. The fold is usually built in a natural dip in the contours of the fell sides.

NORTH BAR BEVERLEY
This and the following sketch are the only ones I have done in the East Riding, apart from some early watercolours painted at the Holderness Hunt kennels at Etton. This, I think was in 1936.

WINTERINGHAM CHURCH
This sketch was left unfinished, due to a constant " blitz " of flies on a hot day.

GOING TO SCHOOL, LEYBURN
These children were to be seen each morning on their way to school: they lived just outside Middleham . Where I used to see them they made a perfect picture on the skyline at the top of the hill.

STUDIES OF PIGS
The only comment I can make about pigs apart from their smell, is, that they make excellent models!

JIM KINGDON'S CARAVAN
Jim's summer home was sketched on the same day that he sat for his portrait. Caravans and gypsies have always had a strong appeal for me and I think the most memorable time I spent with gypsies was one week end on leave, when I traveled with them from Penrith to Armathwaite in Cumberland.

COCKERTON FAIR, COUNTY DURHAM
I had only a few minutes in which to record this sketch. At the time it was jotted down, I was with a friend waiting for a bus into Darlington. Only a stone's throw over the border, I think it warrants inclusion in this book of Yorkshire sketches.

AT THE WHITE HORSE KIRBYMOORSIDE
I have a liking for this type of sketch. The dog at his master's feet is a trail hound. Hound trail meetings are regaining their old popularity in North Yorkshire.
The sport is also extensively staged in Cumberland and Westmoreland attracting large crowds of spectators.

SKETCH AT LEE GAP FAIR
I was impressed by this dear old gypsy woman. She was so homely and although approaching ninety years of age, had the patience to sit for me whilst I sketched her portrait. She told me of one of her grandsons was making a career in the RAF whilst his two brothers were to be found somewhere on the fairground here at Lee Gap dealing in horses. She had had a comparatively easy life and said that if she could have her time over again, she would live it just the same. I was in agreement with her.

ON WOODSIDE MOOR
(No comments)

THE ROAD TO DICK HUDSON'S
Often in my youth I have gone down this lane at weekends with other members of a rambling club. The place has altered but little.

ONE OF JIM'S BOYS
(No comments)

WEST BURTON
A charming peaceful hamlet in Wensleydale.

NEAR SAXTON
Perhaps there is nothing so much appreciated as an afternoon's walk in the country. Particularly so, on a winter's day, when the air is crisp and the ground hard with frost and ice. On such a day I rapidly sketched this group of trees and haystacks, bent on a certain degree of finish before my hands became numb. It was only a matter of minutes, but subjects like these are always worth the time taken on them; even if their ultimate use comes months afterwards in the studio.

STUDIES OF SHEEP
As with the previous sketch of pigs, I am afraid I can make no comment, so will leave the criticism to others more knowledgeable in the art of sheep-rearing.

STUDY OF A STALLION' S BRIDLE
In my sketch books and portfolios there must be many sketches of harness. Harness of every description, from that of the pony to the coach horse. Each set of harness has its own variation and gadgets. As with the anatomy of the horse, it can be a long and absorbing study.

SKETCHES AT SKIPTON
The execution of these sketches was one of much interest.
Whenever visiting any market town I always find time to call at a cattle auction and make at least one sketch.
On this particular day, I decided to make a representative collection of dales farmers in my market day sketch book.
No doubt most people think an artist crazy, as he prowls round in a rather suspicious manner, sketch book in hand, working feverishly to capture all that interests him.
It is surprising too, the remarks one hears when sketching; such as, "I'll bet he's on the Yorkshire Post " - "Absolutely crazy, don't know what artists see in painting! " - "Not a bit like what he is supposed to be sketching " - "I wonder our much he charges? " etc.
Still our artist continues his work more than a little amused at the at the comment his industry has evoked.

TIMBLE FROM THE EAST
The Mecca of all ramblers and cyclists.
Every weekend, the local Inn and the few places of refreshment try to satisfy in these days of shortage and rationing the large appetites of the sturdy young folk from Leeds and Bradford.
The last time I went, a Tuesday, the place was deserted.

TADCASTER FAIR
Unlike the sketch of Cockerton fair - this shows the dismantling of the roundabouts and stalls at the end of the fair.

NOVEMBER EVENING, GARGRAVE
During a recent trip to paint a child's pony at Gargrave, I was made rather too comfortable in front of a roaring fire after I had made my preliminary sketches. Consequently I was loath to leave and face the wet miserable evening. However I had to make the effort to catch my bus. Evidently I had mistaken the time of the bus, for on making enquiries I found that I had half an hour to wait. The sun was setting and a shaft of pink light was piercing the darkness in the west.
Curtains in the houses were as yet undrawn and the reflections of their lights shimmered on the wet pavements and road. I roughed out the outlines of the buildings on a sheet of scrap paper. The finished sketch was done in more comfortable surroundings when I got home, with the warmth of a nice fire at my back.

NORTHALLERTON
As with the previous sketch, this was done whilst waiting for a bus, but under better conditions. It was a glorious evening in midsummer.

A FALLEN GIANT WILLOW
Always an interesting subject and is to be found almost anywhere in the country. I can recommend this type of subject to the student whose talent is in landscape painting. Far too many shun this work and imagine it unnecessary and irkesome.
One of our leading water colourists has hundreds of such studies neatly filed away in his studio; which he uses from time to time in his finished paintings and drawings for reproduction or exhibition purposes.

SKETCH AT MEANWOOD
A rough sketch of this description may have little appeal. But during an artists wanderings he may have no time to do anything more finished and merely jots down the rough composition of the scene.
Rough sketches of this nature can be and are as a rule, more full of life and atmosphere than any sketch approaching a finished stage. The accompanying sketch is chosen to illustrate my point.

DANTE
(Gallery No.8 - ag329.jpg)
"All Yorkshire loves a horse! " and of all the horses I have ever painted, never shall I forget Dante. A perfect "sitter ", well mannered and handsome.
Much could be written about our champion racehorse - his breeding, training, the excitement of his triumphs; the sensation of his defeat in the Two Thousand Guineas and the glorious reception that Middleham gave to him on his return from Newmarket, after winning the 1945 Derby. The sketch opposite was done a few days before he left for Newmarket.

GRASSINGTON
Just as Timble is noted for its ramblers and cyclists, so is Grassington for its artists.
I have no idea whether my friends believe me or not when I tell them that I go to Grassington chiefly for a rest. "Then why do you take your sketching tackle? " they ask.

GYPSIES AT LEE GAP FAIR
At Lee Gap, to me at any rate, the passage of time is forgotten - so much happens in so short a time.
My advice to those who have not been, is to be sure to go the next time, then they will see for themselves the high speed demonstrations of salesmanship as horses are galloped up and down, showing their points to prospective buyers; and also the various ways and means gypsies and horse copers have, of making a livelihood.
I can recommend this has an excellent day's outing!

SKETCH AT THE BRAMHAM MOOR HUNT KENNELS
This matronly foxhound is typical of the occupants of any foxhound kennel throughout the country at "pupping time ". Rather jealous at first, but becoming more accustomed to strange faces, she lies, half sleepily as her off-spring squeak, squirm and squiggle in an effort to obtain nourishment.

JOCKEY AND STABLE LAD, MIDDLEHAM
(No comments)

HELPERBY
This little out of the way spot, near Boroughbridge is worth a visit and is an ideal spot for an artist.
I had a pleasant days outing here on my demobilization leave and painted two watercolours in the morning; the afternoon being spent on a farm nearby, doing odd sketches in my note book.

PATRONS OF THE FOX INN, GUISBOROUGH
The Fox Inn at Guisborough always reminds me of my evenings before the war, when I must have made scores of drawings in the bar parlour. The sketch opposite is the only one which remains in my possession.

REDMIRE
Redmire in Wensleydale is fixed firmly in my mind by a beautiful painting by Mr. Fred Lawson.
It was done a few years ago and shows the remnants of the village fair, as it prepares to go on its way to the next pitch. Redmire Falls, too, appear as subjects in Mr. Lawson's work quite frequently.

LUMBERING IN GRASS WOODS, GRASSINGTON
Another rough sketch which helps to show how "movement " can be achieved with loose, rapid pencil work.
I get much pleasure from lumbering subjects and wish that I could devote more time to this type of work.
But as my demand is for the horse in sport, I "lumber " when occasion arises. On a previous page I said that I went to Grassington for a rest. Perhaps it would seem more fitting if I had said that I go to Grassington for a change of subject as the sketch shows.

STUDY OF AN ELK HOUND
(No comments)

TREES AT THE EDGE OF A WOOD
(No comments)

AN IRISH DERBY WINNER 1947
This is Dante's brother, Sayajirao and was bought at Newmarket Sales for the record figure of ???? guineas as a yearling. He was trainied by F. Armstrong of Middleham and was removed to Newmarket with the whole training establishment in 1946.
He was quite backward in his training and unlucky in his early races. In my opinion he was showing top form when he ran third to Pearl Diver in this year's Derby. At the time of making these notes he proved his worth by winning the Irish Derby.
My sketch shows him in the rough as a yearling.

MUKER
There was not much time at my disposal when I was at Muker during last summer. However I managed to bring away this sketch with written notes of the colours.

A KNIFE GRINDER, OTLEY
Very few knife and scissor grinders are to be seen nowadays. As a matter of fact, I doubt whether I have seen one since I made this sketch about nine months ago.
I remember meeting one once, on an isolated road outside Cockermouth. He was on his way round the various farm-steads and cottages. Needless to say I did not envy him, as the weather was wretched and his raincoat was threadbare; but he looked as fit as the hills around.

GYPSIES AT LEE GAP FAIR
(No comments)

SKIPTON
I should think that Skipton is the busiest and most thriving of our Yorkshire market towns. This can well be judged from the attendance of the population on market days, when almost everyone in Craven and District comes to buy and sell.

FOX BREAKING COVER
Although I have witnessed this scene times without number, I never seem to keep any of my paintings of it. It appears to be a popular favourite as a picture, with most people interested in Foxhunting.

TAN HILL INN
At 1,732 feet above sea level, it is reputed to be the highest of any English Inn and has withstood the severest of winters, on the bleakest spot of Yorkshire's wild moorlands. During the heavy snowfalls of last winter the Inn was almost completely buried and the occupants were isolated for about three weeks.

THAT'S ALL FOLKS!
Joseph Appleyard's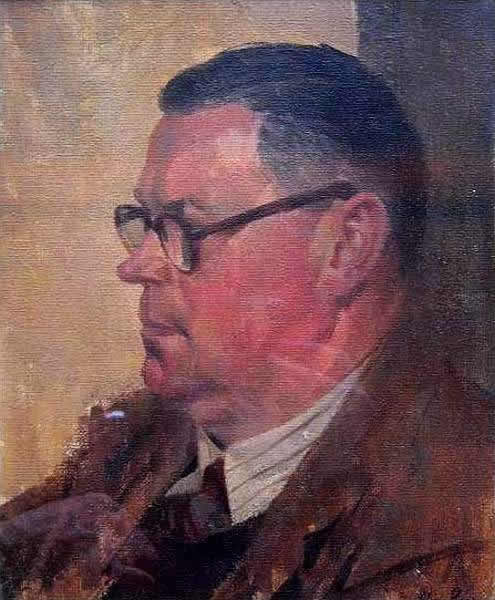 PAGES FROM A
SKETCHBOOK