Joseph Appleyard's Case Studies

With the help of known collectors of Joe's work it is hoped that this site will show further studies of his work.
This site will feature finished works of art and sketches from some of Joe's Sketch Books.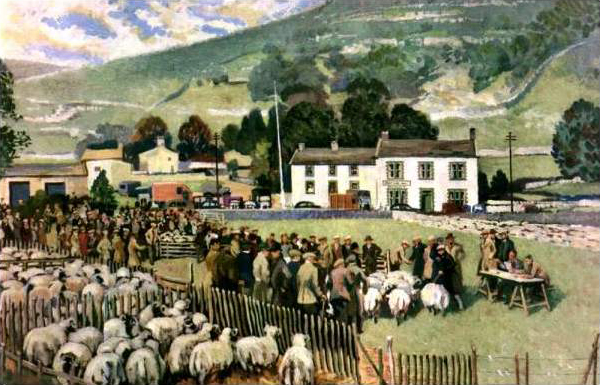 Although not published in Holly Leaves until 1960 Joe's Sketches indicate that it was probably painted in 1953.
This is only one of two of Joe's paintings that I would consider buying back into the family if it came onto the open market.

This painting appeared in a Joshua Tetley Annual Report of 1953 and has since hung in the Public Bar of the Fox and Hounds, Bramhope, somewhat nicotined - but all that might change!
Joe's Sketch Books indicate that it was painted in 1953.
The family in the left corner is of course "The Appleyards". The dog however was not ours, as we lived in a flat where pets were not allowed.

CASE STUDY 3
The Fourth Test England v Australia, Headingley, 1954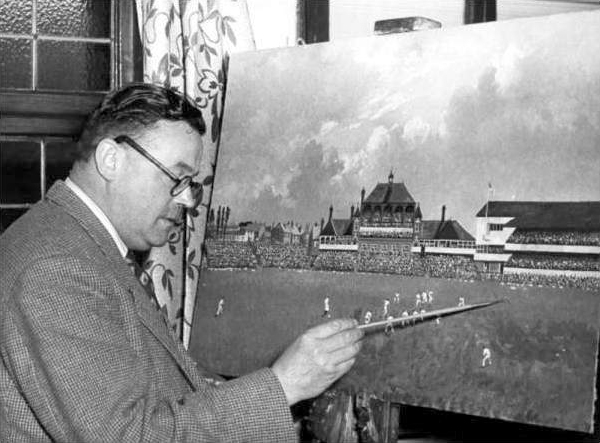 Mr. Joseph Appleyard of Otley Road, Leeds, seen putting the finishing touches to his oil painting
of the Fourth Test Match at Headingley in July.
The picture is to be submitted today to the committee choosing exhibits for the Yorkshire Artists' Exhibition which opens on September 19th at Leeds Art Gallery.
"I was watching the Yorkshire Colts playing Durham when the idea occurred to me that the test would make a good picture".
"Racing, hunting and polo - anything to do with horses - is more in my line. although I did some paintings of boxing while in the army."
The painting shows Hutton and Edrich batting, with Edrich receiving the ball from Lindwall.
It gives a vivid impression of the whole field on the alert.
Mr. Appleyard worked from the Kirkstall Lane end.
The painting will be catalogued at 80 guineas.
The above extracts are from newspaper clippings of the time.
This sketch is from a "Roses" Match
Yorkshire v Lancashire, with Hutton batting.
Primarily an equine and landscape artist this painting was undertaken as a result of his love and interest in all sports.
Joe was also a "commentator" for the blind at Headingley Cricket Ground, a voluntary service he undertook through his involvement with the Rotarian Club.
This was Joe's first attempt at cricket and proved profitable as it was sold for 80 Guineas unseen following a Newspaper Article in The Yorkshire Post. It was subsequently sold at auction in Middlesborough in September 1985 for the princely sum of £1,050.00.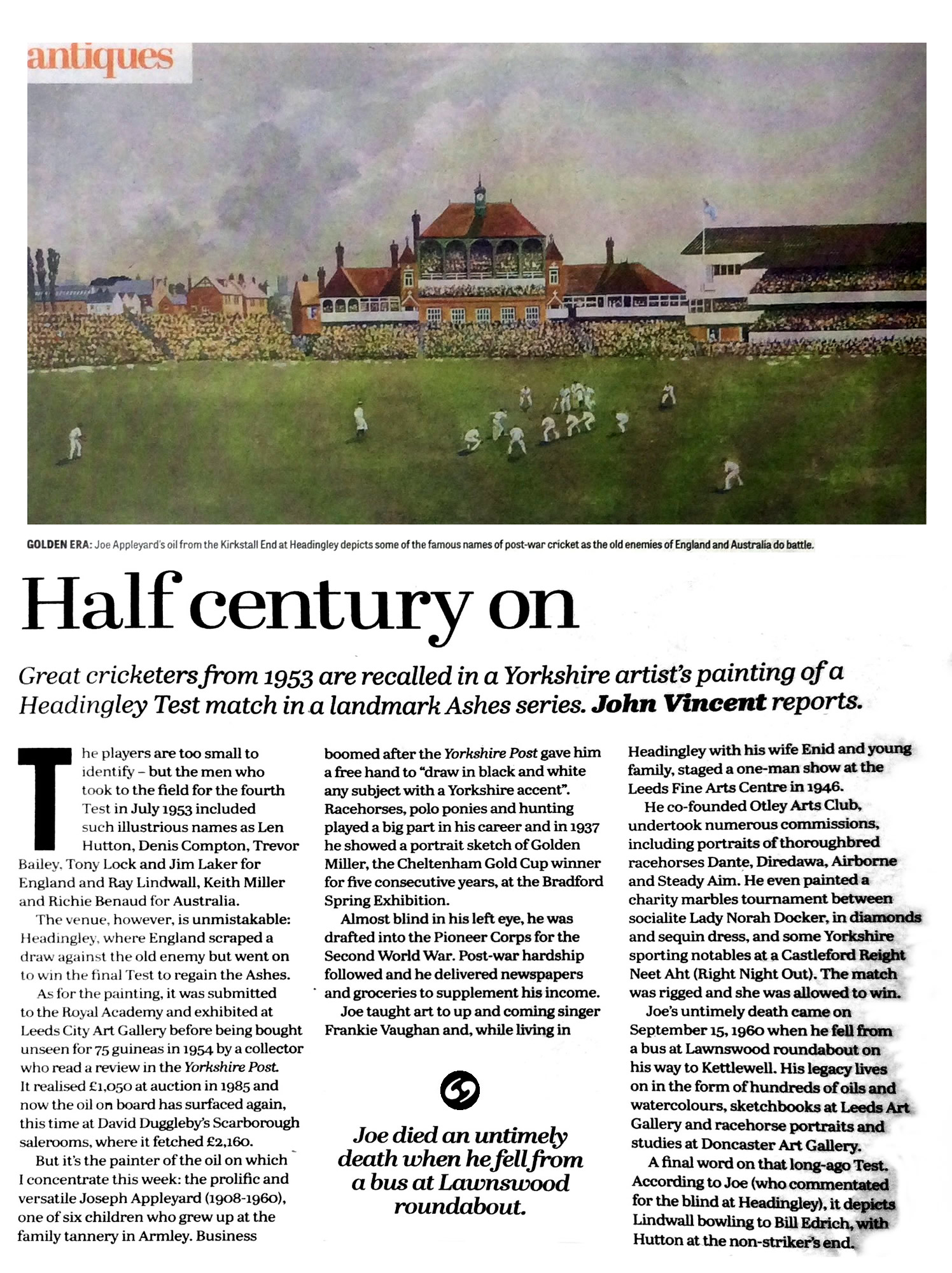 Article from The Yorkshire Post Weekend Magazine, Saturday, October 6 2018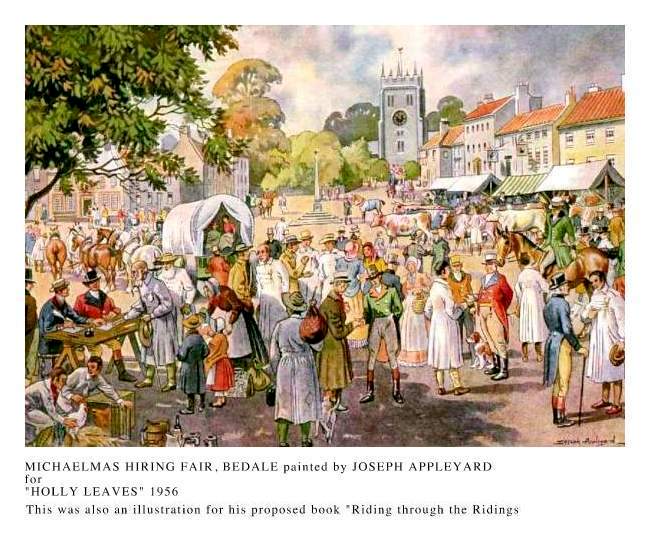 Bedale Market Place painted for and reproduced in "Holly Leaves" the Christmas Edition of "Horse and Country".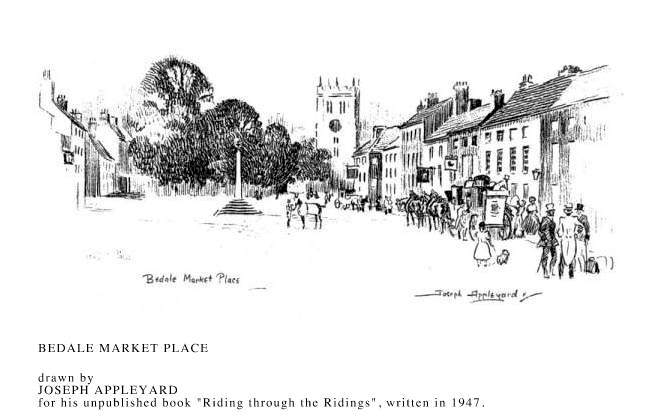 Bedale Market Place taken from Joe's Pencil drawing in his unpublished book of 1947, "Riding Through the Ridings".
These pictures were made for Joe's book "Riding through the Ridings", which never got published.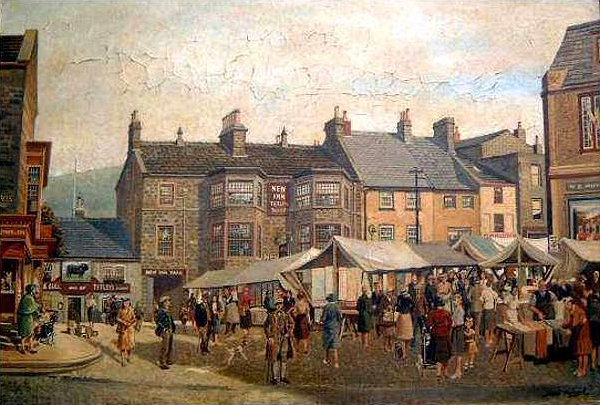 Otley Market Square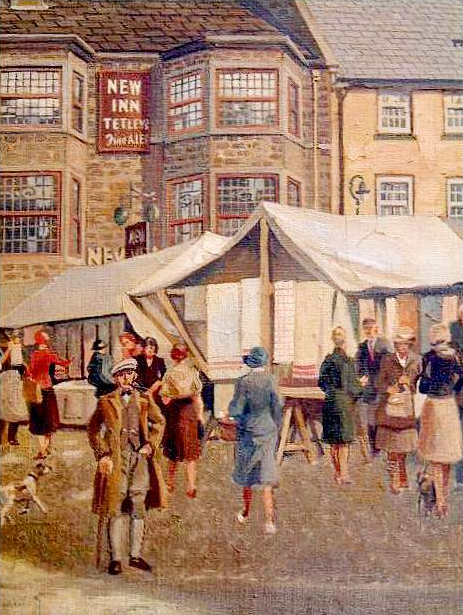 Details from Otley Market Square
I always thought that this painting was done in 1953, but now believe it was done in 1952.
I am not sure of the background to this painting but I think it found it's way from the The White Horse in Otley, which I believe closed in the early sixties to become a bank and ended up across the road in The Black Horse.
In the early nineties I discovered it in the Area Managers' Offices at Tetley's Brewery, Leeds on one of my visits to those offices when I had my Pub Design Business.
Putting out a few enquiries to possibly buying it I was pleasantly surprised when it was offered to me as a gift.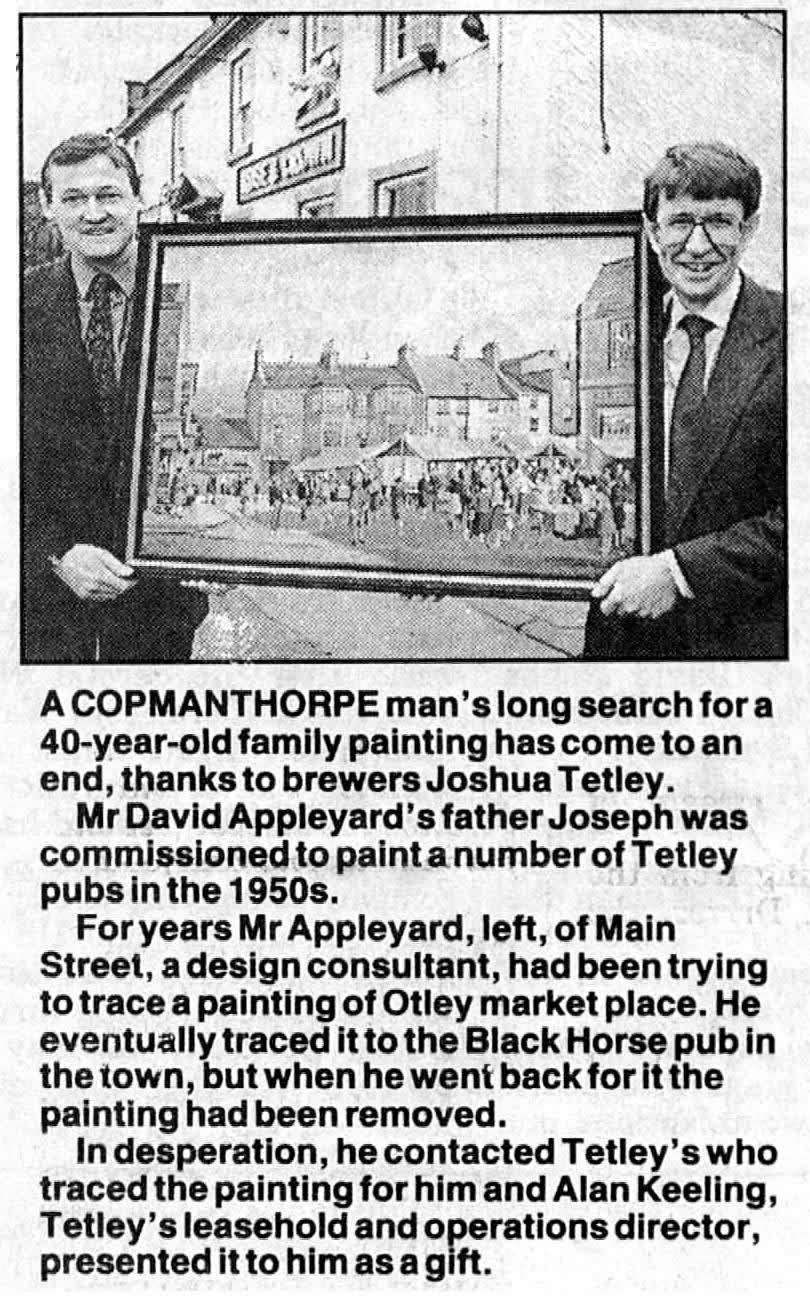 CASE STUDY 6
The Finish of the 1959 St Leger at Doncaster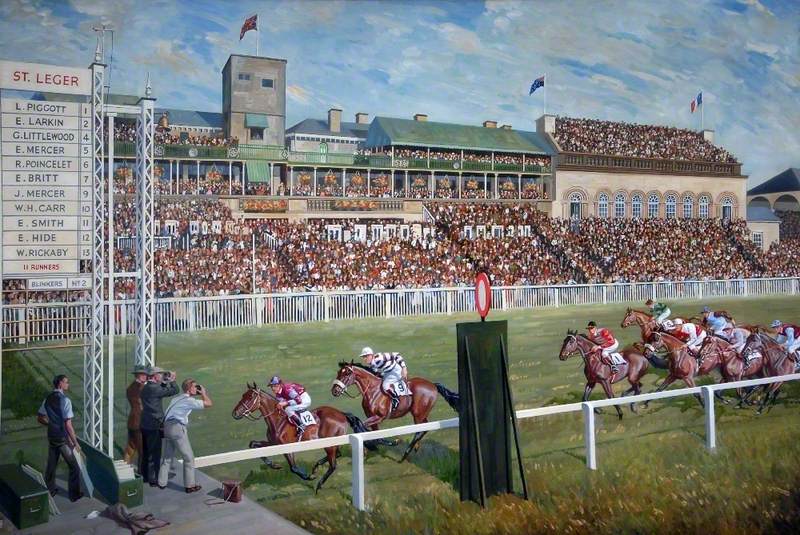 In progress, more to follow.

Joseph Appleyard's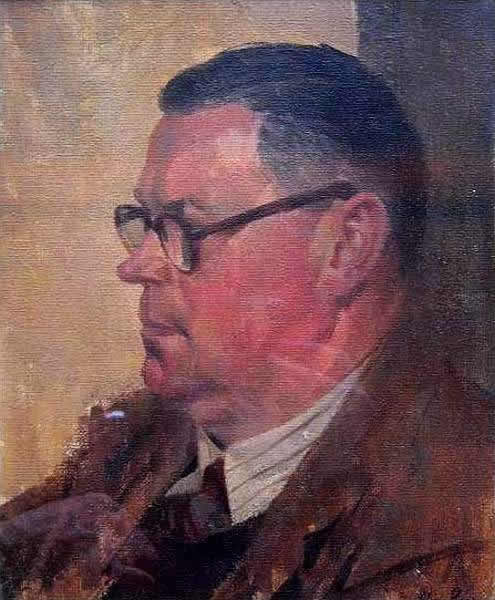 CASE STUDIES